York House will light up green tonight to celebrate the borough's 20th Green Flag Award!
Release Date: 14 October 2020
Heathfield Recreation Ground has today (14 October) been recognised by the Green Flag Award Scheme as one of the very best parks in the country, increasing the number of borough parks with a Green Flag Award to 20.
The Green Flag Award Scheme began in 1996 as a way of recognising the importance of parks and green spaces and encouraging the provision and attainment of high environmental standards. The award measures a whole range of aspects associated with the management of parks including facilities, maintenance and community engagement.
Cllr Julia Neden-Watts, Chair of Richmond Council's Environment, Sustainability, Culture and Sport Committee said:
"Over the past six months our parks and open spaces have been more important than ever. Our parks team, contractors and Friends groups have worked relentlessly to ensure that despite a huge rise in people using our green spaces, they have been welcoming to all.
"To celebrate our new Green Flag Award and recognise the contribution of all those who have made it happen, we will tonight be lighting York House green."
Joan Gibson, from the Friends of Heathfield Recreation Ground, said:
"We are delighted that Heathfield Recreation Ground has received a well-deserved Green Flag Award. This is thanks to the care and attention given to our parks by our partners; the Council parks team, Continental Landscapes, TCV and you, our local residents who care for and enjoy the rec."
Successful parks and green spaces are awarded a Green Flag for a year, after which they have to re-apply to retain the award. A park or green space must at least maintain and ideally improve upon previous standards to be guaranteed a subsequent award.
Following an extensive external judging regime, the London Borough of Richmond upon Thames has been re-awarded all 19 of its Green Flags and gained a new Green Flag for Heathfield Rec, bringing the new total to 20.
The 20 Parks recognised by The Green Flag Awards were:
Cambridge Gardens
Carlisle Park
Crane Park (Joint with London Borough of Hounslow)
Garricks Lawn
Ham Village Green
Hampton Common
Hatherop Park
Heathfield Rec
Kew Green
Kneller Gardens
Murray Park
North Sheen Rec
Palewell Common and Fields
Radnor Gardens
Richmond Green
Terrace Gardens and Buccleuch Gardens
The King's Field
Twickenham Green
Westerly Ware
York House Gardens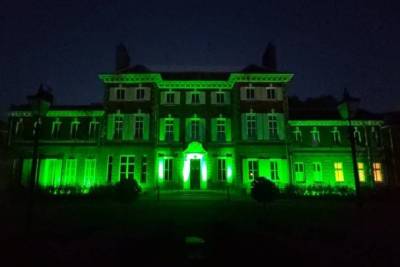 Notes for editors
If you are a journalist and would like further information about this press release, contact  Elinor Firth on 020 8487 5159.
Reference: P406/20