Services to support your mental health this World Mental Health Day
Release Date: 07 October 2020
To mark this year's World Mental Health Day (10 October 2020), residents are reminded by our Public Health team of the free support services that can help.
COVID-19 has made this year a particularly difficult one - months of lockdown and loss have had a huge impact on mental health. If you have been affected, or you know someone who has been, try reaching out to one of the below free support services.
Good Thinking is a free virtual resource provided by Thrive London, Public Health England and the NHS. It aims to provide digital mental wellbeing support for London through online quizzes, workshops, podcasts and activities.

Richmond Wellbeing Service offers a range of free and confidential talking therapies and specialist support for adults. You can visit the website or give them a call on 020 8548 5550.

RB Mind's Helpline offers a safe place where you can speak to someone who will listen, offer you support and guide you to further help if needed. The service is for anyone over 18 years old living in the borough.

The emotional support line: 0203 137 9590, is open:

Monday to Friday: 9am to 10pm
Saturday: 2 to 10pm
Sunday: 2 to 8pm
Kooth is a free, safe and anonymous place for young people to find online support and counselling. 

If you need mental health support in a crisis, you can call the South West London and St George's Mental Health NHS Trust 24/7 Mental Health Support Line on 0800 028 8000. It is open to everyone and if required you can then visit the 24/7 Orchid Mental Health Emergency Service at Springfield Hospital in Tooting, London, to receive specialist care from expert mental health professionals.
Virtual World Mental Health Day Festival
Thrive London is hosting a virtual World Mental Health Day Festival from midday on Saturday 10 October. The day features workshops, performances and panel discussions all with the aim of supporting you to build resilience and promote positive wellbeing.
Cllr Piers Allen, Lead Member for Adult Social Services, Health and Housing, and Chair of the Richmond Health & Wellbeing Board, said:
'It has been an extremely tough year for everyone and so this World Mental Health Day is the most important one yet.
'Making positive change can be difficult, especially during uncertain times. It can be overwhelming to know where to start. But if you are up to doing one thing today to help your mental health, why not try visiting the Good Thinking website or calling RB Mind's Helpline for a chat. Take those first steps this World Mental Health Day to support yourself or to reach out to someone else.'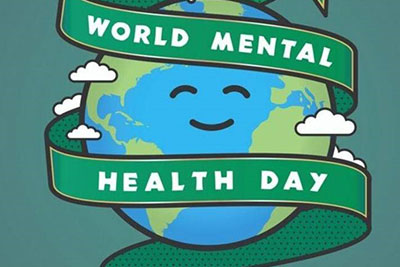 Notes for editors
If you are a journalist and would like further information about this press release, contact  Fenna Maynard on 020 8487 5182.
Reference: P396/20