No place for hate crime in Richmond upon Thames
Release Date: 14 October 2020
This National Hate Crime Awareness Week (10 to 17 October), the Council, local police and partners are calling for everybody to play their part in reporting hate crime to make Richmond upon Thames a safe place for everyone.
Hate crime is a crime that is targeted at a person because of hostility or prejudice towards that person's perceived:
Disability
Race or ethnicity
Religion or belief
Sexual orientation
Gender identity
Hate crimes can be committed against a person or property. If you are targeted because of who you are, or who they think you are, it is a hate crime. The crime does not have to include physical violence – hate crime can be verbal or online.
The most frequent type of hate crime reported in Richmond upon Thames is racist and religious hate crime. From June to August this year, there were 93 reports of racist and religious hate crimes, which is a 55% increase from the year before when there were 60 reports. Homophobic hate crime has also increased with 15 cases reported from June to August 2020, compared to 4 in the year previous.
Richmond Council is working closely with the police and Stop Hate UK to reduce incidents of hate crime in the borough. Reporting hate crime is essential so that no one suffers in silence. You can report a hate crime or incident in the following ways:
Call 999 if it is an emergency and a crime is in progress
Call 101 in a non-emergency to report, whether you're a victim, witness or making a report for someone else
Report it via the Met Police website
If you want to report crime completely anonymously to the police, use Crime Stoppers
Stop Hate UK offers a 24-hour telephone number for people wanting to report hate crime. Call 0800 138 1625 or go visit Stop Hate UK
For a confidential 24-hour helpline for young people under 18, call 0808 801 0576 or text 07717 989 025 or visit Call Hate Out
Cllr Gareth Roberts, Leader of the Council, said:
"Hate crime has no place in society. Hate, even when not a crime, can feel like a violation to those who suffer it and in the worst cases can escalate to crime and tension within our communities. Richmond upon Thames should be a safe environment for everyone – we all have the right to live without hostility from others because of who we are.
"The increase in hate crimes in our borough in recent months reflect a London wide increase in hate crime since the start of the year. The figures serve as a stark reminder that we must do more as a community to stop racism, homophobia and religious intolerance.
"Reporting is an essential part of this process and whilst at times it may seem easier to turn a blind eye to a situation that makes us feel uncomfortable – I urge you not to normalise this kind of behaviour and to step in by picking up the phone to the police. If you see or experience hate crime, report it. Together we can create a safer borough."
Chief Superintendent Elisabeth Chapple, Commander for the South West BCU, said:
"We will not tolerate hate crime on the South West BCU, and I and all of my officers stand against it.  We hope communities will support each other and embrace difference.  However, where this does not happen, and you are a victim of hate crime, it's important that you report it so we can help and support you and potentially guide you through the criminal justice system. We encourage you to report your experience either by calling 999 in an emergency, online, on 101 or anonymously through Crime Stoppers."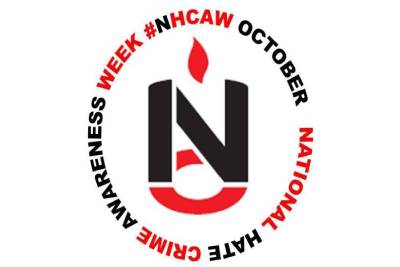 Notes for editors
If you are a journalist and would like further information about this press release, contact Fenna Maynard on 020 8487 5182.
Reference: P405/20