Hear from the acting Medical Director of Kingston Hospital on COVID-19
Release Date: 20 October 2020
Listen to Amira Girgis, acting Medical Director of Kingston Hospital, on this week's episode of Talk Richmond.
In the 13-minute-long podcast episode, Amira and Talk Richmond's host Cllr Jim Millard, reflect on Kingston Hospital's experience during the peak of the pandemic and what the situation looks like now as infection rates rise.
Amira offers advice on what to do to help stop the spread of COVID-19 and discusses the impact of the pandemic on people with other health needs.
You can listen to the podcast here or by searching and downloading Talk Richmond on your podcast app. Subscribe and leave a review to help others find the podcast.
Cllr Jim Millard, Tenants' Champion and Host of Talk Richmond, said:
"Hearing Amira reflect on how hard staff at Kingston Hospital worked during the peak of the pandemic serves as a stark reminder that we must all follow guidance – such as wearing a face covering, adopting social distancing, continuing to wash our hands and not meeting people from other households indoors – to help protect those around us and the frontline workers who continue to do so much for us."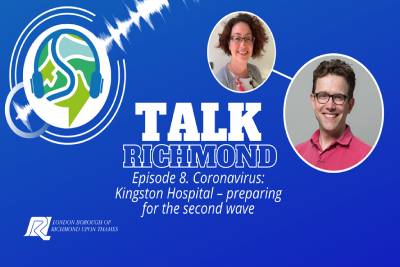 Notes for editors
If you are a journalist and would like further information about this press release, contact  Fenna Maynard on 020 8487 5182.
Reference: P411/20