Fourteen school streets now live in Richmond!
Release Date: 22 October 2020
Fourteen school streets are now in place across the borough, enabling children to travel safely to school every day!
Earlier this year, Richmond Council used emergency powers to ensure that three local primary schools were the first in the borough to receive 'School Street' status prior to the summer holidays.
Following this, other schools across the borough were also invited to apply. And from this month, using an Experimental Traffic Order, an additional 11 schools have also followed suit.
Cllr Alexander Ehmann the Chair of Richmond's Transport and Air Quality Committee, said: 
"From a standing start, I'm delighted to see that this borough now boasts 14 school streets. This is yet another clear message that Richmond now puts the safety of our youngest (and most vulnerable road users) first."  
School Streets ensure a safer space for children around their school, contribute to reduced local pollution and encourage parents and children to opt for sustainable travel methods, like walking and cycling.
A School Street is where a road(s) around a school temporarily closes to all motor vehicles except those of the immediate road residents; thereby becoming a pedestrian and cycle zone during the school's opening and closing times. 
As with the first three 'School Streets', the first six months of implementation will be a consultative period, where residents, parents and the school community can feedback their impressions. Should the trials be successful, the Order will be made permanent.
To give your feedback: www.richmond.gov.uk/consultation
School Streets have been installed at:
Orleans Primary School
St Stephen's Primary School
(GEMS) Twickenham Primary Academy
St Richard Reynold Catholic College
Stanley Primary School
Hampton Infants and Nursery School
Holy Trinity CoE Primary School
The Richmond upon Thames School
Hampton Hill Junior School
Jack and Jill Prep school
St John the Baptist CE Junior School
St Mary's CE Primary School
The Russell Primary
Trafalgar Infant and Junior Schools
For more information or if you are a school that is interested in having a School Street, email: transportation@richmond.gov.uk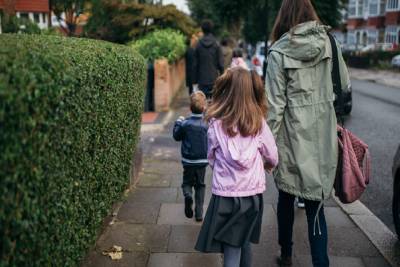 Notes for editors
If you are a journalist and would like further information about this press release, contact  Elinor Firth on 020 8487 5159.
Reference: P417/20