Richmond tough on contractors to protect safety of residents
Release Date: 29 October 2020
Cadent Gas Ltd was fined over £37k this week for a series of breaches in safety and operating without a valid street works permit, following legal action brought by Richmond Council.
The company pleaded guilty at Lavender Hill Magistrates Court on 15 October 2020 to two offences. One offence was for commencing work on the public highway without a valid permit in place. The second offence was working unsafely on a public highway in breach of Section 65 of the New Roads and Street Works Act 1991.
A sentencing hearing took place at Wimbledon Magistrates Court One before District Judge Sweet on 26 October 2020.
The Court heard that following an investigation by Richmond Council, council officers found that the contractors, who were working on behalf of Cadent Gas, set up a work site with no signage, lighting or guarding, there were also no provisions for pedestrians, particularly those with disabilities.
The court considered the evidence, including photographs taken by the investigating officers. The Court ruled that whilst Cadent Gas wasn't the company delivering the work they have a responsibility to manage their contractors and sentenced them to pay £37,139.75 in fines and costs.
Cllr Alexander Ehmann, Chair of the Transport and Air Quality Committee for Richmond Council, said:
'Residents rely on utility companies to fix and repair problems swiftly. We support them to do so. However, they must operate safely.
'When we receive reports that companies are not, we investigate and take swift action. It is disappointing that Cadent's contractors were sloppy in putting the safety of pedestrians and cyclists first and they are lucky there were no accidents.
'Hopefully this prosecution sends a strong message that we take street work violations seriously and will continue to prosecute any company that does not follow the rules.'
Photograph of the unsafe works.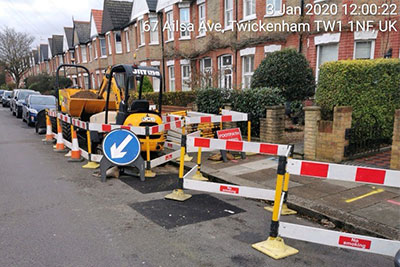 Notes for editors
If you are a journalist and would like further information about this press release, contact  Elinor Firth on 020 8487 5159.
Reference: P428/20