Teddington torch walk organised to raise awareness of women's safety
21 November 2022
Residents are invited to join a torchlight walk to mark the end of this year's 16 Days of Action campaign which raises awareness of violence against women and girls (VAWG).
The 16 Days of Actions begins on 25 November, White Ribbon Day, also known as the International Day for the Elimination of Violence against Women. This international campaign acts as an opportunity to raise awareness and call for changes at a global, national and local level to end violence against women and girls.
White Ribbon is a global campaign that encourages people, especially men and boys, to act and change the culture that leads to abuse. As a White Ribbon accredited organisation, Richmond Council is committed to working with community groups and local residents to show unity and end violence, as set out in the council's VAWG Strategy. The torch walks are a key part of the strategy's action plan.
The short walk is being organised by Councillor Ben Khosa, Richmond Council's first White Ribbon Champion, who has been leading on work to tackle the root causes of violence and encourage male allyship within the borough.
Cllr Ben Khosa said: "VAWG is not only a women's issue. It's important we all take part whenever and however we can to change the behaviours and cultures within our society that allow violence to happen. This torch walk is the perfect opportunity to show that Richmond upon Thames cares about women's experiences and will continue working as a community to make everyone in the borough feel safe."
All residents are invited to participate in the short walk without registering. Those who turn up on the day are encouraged to bring an electric torch or use their phone light to demonstrate the borough's solidarity with victims and our collective determination to eliminate the issue. Volunteers will be handing out white ribbons and participants will also have the opportunity to take the White Ribbon promise to help end violence against women. The walk will be marshalled with stopping points along the way to ensure everyone is able to take part.
Event details:
• Date: Saturday 10 December
• Starting time: 4.30pm
• Start location: Landmark Arts Centre, Teddington
This is the last of the torch walks that will be taking place across the borough this year to round out the 16 Days of Action against Gender-Based Violence. Richmond Council will hold further White Ribbon Torch Walks in 2023 to continue to raise awareness and bring the community together to take a stand against VAWG.
Richmond Council has been working to improve women's safety. However, domestic abuse, which disproportionately affects women, currently accounts for 10% of all crime in the borough. Although there has been a 16% decline in domestic abuse, this may be ascribed to underreporting so the council is providing survivors with support services and working with partners to make the borough safer.
For more information on crime statistics in Richmond upon Thames, take part in the Community Safety Consultation.
Find out more about available support for domestic abuse survivors and learn how your organisation can become White Ribbon Accredited.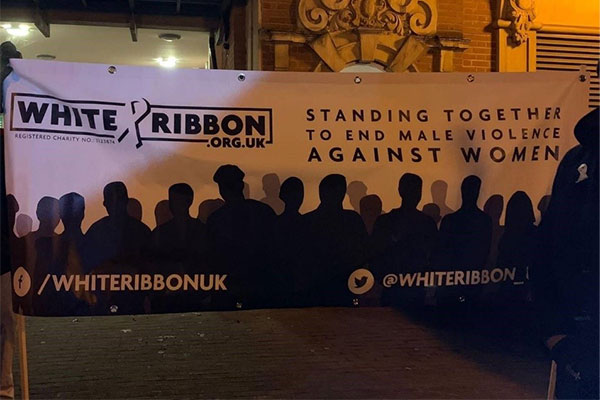 Updated: 21 November 2022