Richmond Council hosts cost of living information event for residents
11 November 2022
Richmond Council will host a virtual public meeting for Richmond upon Thames residents to find out more about the support available to help them through the cost of living crisis.
The Council recently announced it has allocated £3 million to ensure support reaches as many people as possible. Work is already being done within the Council and the virtual event will be chance for residents to hear about this, put questions to a panel  about types of help, and to share their concerns and suggestions for local support.
Councillor Gareth Roberts, Leader of Richmond Council, has said:
"The current crisis is like nothing most of us have experienced. There is a considerable amount of support available, both locally and nationally, but many people are new to hardship and don't know what is available and how to access it, and those that already access support really need more.
"Being able to provide this on a local level is incredibly important – we saw how the strength of our communities helped those in need during the COVID pandemic. We need the same local response now and the Council is working with the local voluntary sector and partners to understand needs, but we also need to hear from residents."
We are inviting everyone to come along to this Q&A event, not only to get the information you need about existing means of help and hear about the plans we already have for extending support, but also to tell us what the needs are in your communities and what else you think we need to do.
Councillor Roberts will be joined by a panel of Councillors and officers from the Council, as well as Citizen's Advice Richmond, Richmond AID and  South West London Energy Advice Partnership, who will be able to answer residents' questions about everything from benefits to energy saving tips.
The free event is open to anyone and  will take place on Zoom, on Monday 12 December, from 6.30pm. Residents must pre-register for the event, by 5pm on Monday 12 December.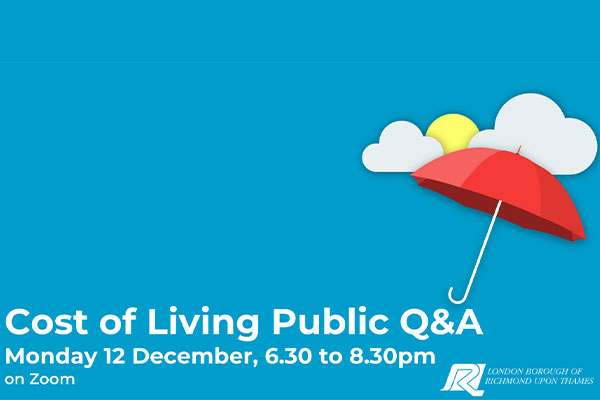 Updated: 15 November 2022