Join The Poppy Factory's 100th Christmas for feelgood festivities
Community news on behalf of The Poppy Factory | 24 November 2022
Festive workshops, live music and discovery sessions will bring joy to The Poppy Factory's visitor centre this December as the charity celebrates its 100th Christmas.
Visitors can take part in a wreath-making masterclass, join a Christmas cupcake workshop and listen to a special performance by Blackwater Valley Wind Quintet, while also supporting the ex-forces community.
Small groups and individual visitors can also book to join one of three hosted discovery sessions and enjoy a festive factory tea break, with hot chocolate and seasonal favourites like mince pies, chocolate log, Christmas cake, ginger cake and fruit loaf.
Ticket holders will have the chance to discover the heart-warming story of The Poppy Factory community through the interactive exhibition, including restored archive photographs of Christmas parties for the children of the first injured veterans who lived and worked there from 1922 onwards.
Funds raised through the visitor centre will go towards employment support for the armed forces community, helping veterans with health conditions to transform their lives.
Amanda Shepard, Director of Fundraising and Communications, said:
"We're pleased to offer such a wide-ranging Christmas programme in the new visitor centre in The Poppy Factory's centenary year. I'd encourage everyone to get involved – you'll have a great time while also making a valuable contribution towards our year-round support for veterans with health conditions, across England and Wales."
Find out more information about the events and book tickets.
Festive events at The Poppy Factory:
Christmas wreath-making workshop with Lilac & Bloom - Thursday 8 December at 12.30pm
Christmas cupcake workshop with 7 Marvels - Monday 12 December at 12.30pm
Blackwater Valley Wind Quintet Christmas concert - Friday 16 December at 12.30pm
Hosted discovery sessions:
Monday 5 December at 12.30pm
Tuesday 6 December at 10.30am
Monday 19 December at 12:30pm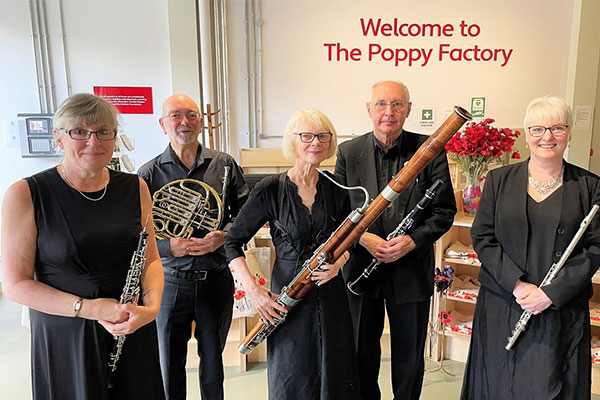 Updated: 24 November 2022