Know your risk and what local support is available to you this World Diabetes Day
11 November 2022
Monday 14 November is World Diabetes Day, and we are encouraging residents to take steps to understand their type 2 diabetes risk and the many local services available to help them prevent and manage that risk.
Did you know that diabetes currently affects one in ten people worldwide? Around 12,000 residents in Richmond are estimated to be living with the condition (undiagnosed and diagnosed), and nearly half do not yet know they have diabetes. Many others are at high risk of developing type 2 diabetes.
Understanding the condition is the first step toward managing and preventing it. Being diagnosed early is important for all types of diabetes. It can save lives, prevent a medical emergency, and reduce the risk of life-changing complications later.
Know your risk of type 2 diabetes
There are many local resources and services available to help residents spot the signs and symptoms of diabetes, understand their risk, and help manage that risk through simple lifestyle changes and education.
To easily find out your risk of developing type 2 diabetes, use the Diabetes UK Know Your Risk tool, which only takes a few minutes to complete.
If you are between the ages of 40 and 74, you may also be eligible for a free 20-minute NHS Health Check with your GP or a local pharmacist, which checks for early signs of risk for common but preventable conditions like diabetes, dementia and heart disease. There are many participating pharmacies and practices across Richmond upon Thames.
If you have questions for a pharmacist about your type 2 diabetes risk or would like their support in determining your risk, you can also visit one of our community health buses which are frequently out and about in the borough or make an appointment with a Tesco pharmacy team near you.
Reduce your risk
For many people, combined lifestyle interventions - including diet, physical activity and sustained weight loss - can be effective in reducing the risk of type 2 diabetes by about 50%.
If you do find out you are at risk of type 2 diabetes, you can join the Healthier You: NHS Diabetes Prevention Programme and receive support to lower your risk through in-person group sessions, digital one-to-one support, or a tailored remote option for specific groups, such as those with a visual or hearing impairment.
Support for those living or caring for someone with type 2 diabetes 
Over 95% of the time, people living with diabetes are looking after themselves and need access to ongoing education to fully understand their condition and carry out the daily self-care essential to staying healthy and avoiding complications.
Residents with type 2 diabetes can book onto a variety of face-to-face or remote education courses across South London through Diabetes Book & Learn.
Whether you live with diabetes, care for someone who does or just want to learn more, you can improve your understanding with free, interactive Understanding Diabetes courses.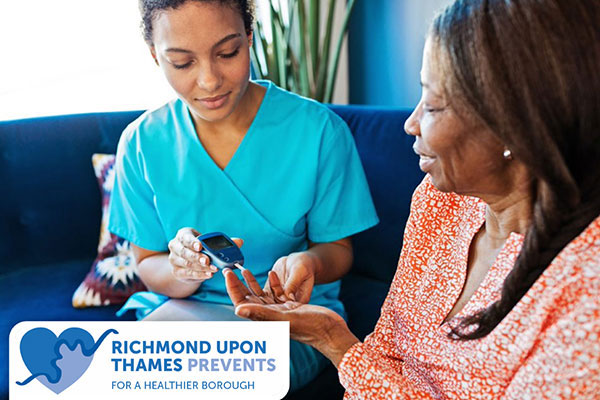 Updated: 15 November 2022