Support local businesses this Small Business Saturday
30 November 2021
Richmond Council is encouraging residents to Shop Local this Christmas period and support the borough's businesses as the Small Business Saturday Tour comes to Twickenham this week.
The Small Business Saturday Tour has been travelling across the UK, stopping at different towns and city centres from Monday 1 November to Wednesday 1 December 2021 to support small business and highlight the importance of local economies. 
The tour will visit Twickenham on Wednesday 1 December from 11am to 2pm. As part of the visit the tour team will be visiting some of the independent businesses operating in Twickenham including Emporium Florist, Sandy's Fishmongers, P. Coopers and Son, Corto, Memories and Star Printers. 
The Small Business Saturday Tour will also be hosting virtual workshops, webinars and mentoring sessions on a range of topics to support and engage local small businesses as well as showcasing a fleet of eco vehicles that suit small businesses needs and encourage sustainable switches to electric vans, cars and scooters, as well as a 'delivery style' push bike.  
This will be the first time that the Small Business Saturday Tour will visit Richmond upon Thames and to support the tour several representatives from Richmond Council will attend including the Council's Business and Growth Lead Member, Cllr Richard Baker, and The Leader of the Council, Cllr Gareth Roberts along with representatives from MyTown, the Council's partners to provide sustainable delivery options from local independent high street retailers. 
Cllr Richard Baker, Business and Growth Lead Member, said: 
"It is extremely exciting to have the Small Business Saturday Tour coming to our borough. Richmond upon Thames has many great small businesses that are at the heart of our town centres and local communities.  
"I am delighted that the tour will be in the borough on Wednesday, 1 December. As a Council we are committed to continuing to support small businesses. I would encourage resident to shop local this festive period and support their local high streets."
Find out more about the Small Business Saturday Tour.  
Richmond Council will be supporting Small Business Saturday with a number of events planned for East Twickenham, St Margaret's, Teddington and Hampton Hill on Saturday 4 December 2021. View Visit Richmond website for full details. 
Residents are reminded to shop safely over the Christmas period and to follow public health guidelines by ensuring they wear face coverings in retail spaces following the reintroduction of mandatory face coverings in shops and on public transport.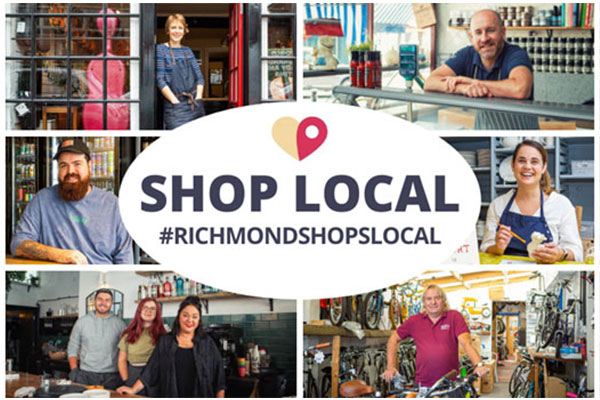 Updated: 30 November 2021