Raising awareness of the impact that alcohol can have on our relationships, health and wellbeing
15 November 2021
To mark this year's Alcohol Awareness Week, which runs from 15 to 21 November, Richmond Council is raising awareness of the affect alcohol can have on our relationships, health and wellbeing. Throughout this week we are encouraging residents to reach out for support if they need it.
In 2018/19, almost 1,000 people were admitted to hospital with an alcohol-related condition in Richmond upon Thames, which is above average when compared to the rest of London.
Aside from the impact on physical health, drinking too much alcohol is strongly associated with causing or exacerbating problems with mental health, including damaging relationships with loved ones. It can heighten family tensions, get in the way of clear communication, and mean people are less present with each other. If a loved one is drinking heavily, it can also cause huge amounts of worry for those around them. It is thought that 200,000 children in England live with an alcohol-dependent parent or carer.
Alcohol Awareness Week is an important opportunity for everyone to talk about the issues around alcohol and to reach out for support if it is needed.
If you think you need support, Richmond Community Drug and Alcohol Service (RCDAS) is here to help anyone over the age of 18. You can call the free support service on 020 3228 3020.
You can use the Council's DrinkChecker website to help set goals to drink less, see how much you can save in money and calories by reducing your drinking, and find information about local support services.
If there is a young person in your life who might need support, the Young People's Substance Misuse Service aims to provide specialist substance misuse treatment to young people aged 13 to 19 years and their families. You can contact the service by emailing smsreferrals@achievingforchildren.org.uk or calling 020 8547 6920.
If you are feeling down, stressed or have problems sleeping check out the Good Thinking website for further help and support.  
Cllr Piers Allen, Lead member for Adult Social Care and Health and Chair of the Richmond Health and Wellbeing Board, said:  
"Since COVID-19 restrictions have lifted, we have returned to a more normal way of life, and this might mean that there are new pressures to drink.
"By taking control of our drinking, rather than letting it control us, we can develop better, happier relationships, as well as improved health and wellbeing. A great way to start is by using the DrinkChecker website."
Visit our drug and alcohol support page for more information.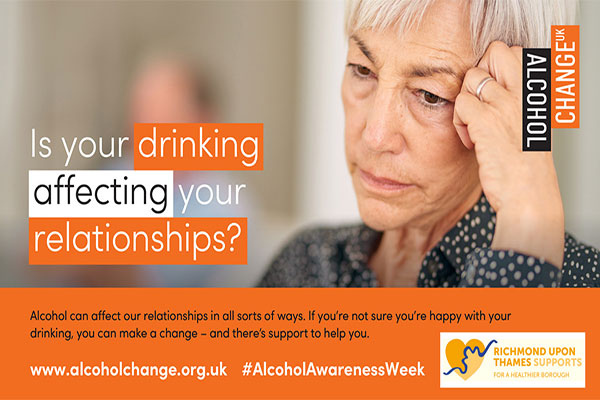 Updated: 15 November 2021