New Richmond upon Thames Monopoly

1 November 2021
An official Richmond Upon Thames version of the world's most popular and famous family gaming brand has just hit the shops in time for Christmas.
Earlier this year when it was announced that Richmond Upon Thames had landed the honour of its very own customised Monopoly game the public was invited to suggest local landmarks to feature in the game.

In the game all the famous multi-coloured Monopoly property squares like Mayfair and Park Lane are occupied by leading landmarks from Richmond Upon Thames.

Terrace View gets to land on the top ranked square and most expensive bit of Monopoly real estate on the board, replacing glitzy Mayfair from the game's classic London original.

In between Terrace View (replacing Mayfair) and Corporation Island (Old Kent Road) – which reside at the top and bottom of the board - are the great and good of the borough, including Richmond Park which gets to reside on a green square (Bond Street from the classic London original), Ham House (replacing Angel, Islington), Twickenham Stadium (Northumberland Avenue), the Hazlitt Theatre (Coventry Street), The Mall (Vine Street) and many more.

Several charities get to feature in the game as well, following a public vote. They include SPEAR and Animal Rescue and Care.

Very many of the Chance and Community Chest cards are themed around the borough too. One rewards players with one hundred Monopoly dollars to spend on champagne afternoon tea on the terrace at Richmond Hill Hotel. Whilst another also hands over Monopoly money to players – this time twenty Monopoly dollars – for braving the elements by going on an early morning swim in the Thames.

Cllr Geoff Acton, Mayor of Richmond upon Thames, said:

'It was a borough-wide effort to vote on the local landmarks and charities that feature on our very own Monopoly board. Our borough has so much to offer and I'm looking forward to seeing this represented on the new official board. I am looking forward to playing the game at Christmas!'

The game is on sale now at Asda, Ryman, Waterstones, WHSmith and The Works – as well as extensively online, including on Amazon.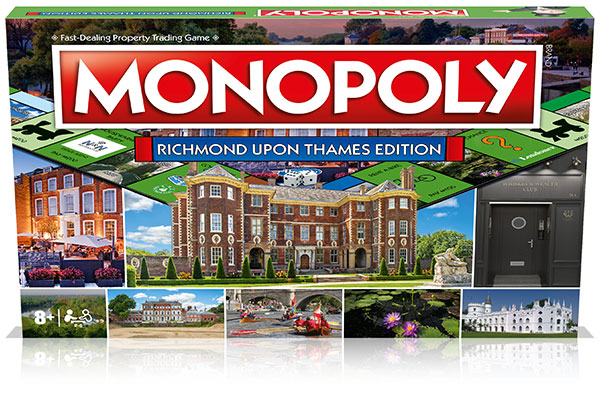 Community news on behalf of Winning Moves UK