Listen to Richmond Council's Director of Public Health on COVID-19 and winter health
18 November 2021
Listen to the latest Talk Richmond podcast episode to hear the Director of Public Health, Shannon Katiyo, talk about the impact of cold weather on COVID-19, and what we should all be doing to help protect ourselves and those around us from getting sick this winter. 
With Richmond upon Thames having some of the highest COVID-19 rates in London last month, Shannon discusses the importance of taking personal action to encourage good health this winter. The podcast episode covers: 
The importance of the COVID-19 booster and flu vaccines
Why the flu is likely to be worse this season
How successful the school vaccination programme has been for 12 to 15 year olds 
Why Richmond upon Thames has recently had high COVID-19 rates 
What we can all do to help stop the spread of viruses
What happens if cases across the country continue to rise
Listen to the podcast on the website or by searching for Talk Richmond on your podcast application and downloading the episode. Let us know what you think of the podcast and the episode by emailing talk@richmond.gov.uk.
Cllr Jim Millard, Spokesperson for Housing and Host of Talk Richmond, said:
"It's always great having Shannon on Talk Richmond. In this episode, he gives a really insightful update on the COVID-19 situation both locally and nationally. Have a listen and take on board the steps that you can easily take to help keep yourself and those around you healthy and protected this winter."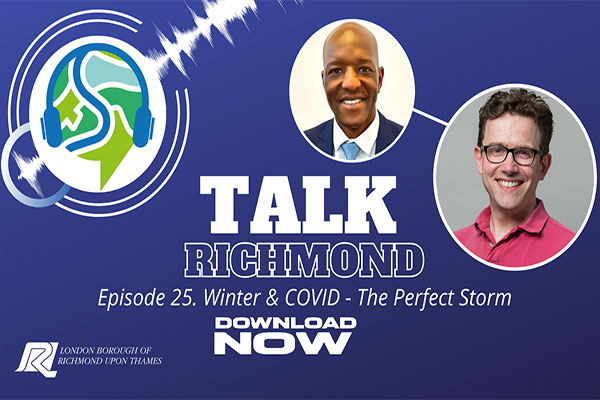 Updated: 18 November 2021