Richmond Council agrees to fund a quarter of Hammersmith ferry infrastructure
Release Date: 06 November 2020
A new ferry service linking Hammersmith and Barnes is a step closer to reality as Richmond Council has agreed to cover 25% of the infrastructure costs.
At last night's Transport and Air Quality Committee, the Council agreed to contribute up to £375,000, to ensure the ferry service can be delivered as quickly as possible and to mitigate the impacts of the on-going bridge closure on Richmond upon Thames residents.
The confirmation of the Council's contribution comes as TfL announces it has kick-started the procurement process for the ferry service following a funding deal from the Government. TfL aim to award a contract within 12 weeks, but the infrastructure is subject to planning permission on both sides of the river.
Cllr Alexander Ehmann, Chair of the Transport and Air Quality Committee, said:
"Richmond Council's decision to commit funding to the enabling works for a ferry service takes us another step closer to a crossing for our residents. We will continue to press the other parties involved in the Taskforce to ensure that the delivery of a ferry service moves as quickly as possible. 
"At the same time it is essential that funds are committed to the Hammersmith Bridge stabilisation works. Richmond Council continues to press for the 'Three Fs' - Fix (the main structure), Ferry (an urgent crossing) and Footbridge (the construction of a temporary pedestrian/cyclist bridge). 
"As of today, Richmond Council have committed more funding to the Hammersmith Bridge project than the Government. It cannot be right that nearly three months after the bridge was completely closed, we are still waiting to hear of any financial commitment from the Government for the full works, when only three weeks earlier they claimed to be 'taking control' of the repairs. Residents want the wrangling and political grandstanding to stop and for the Government to stump-up the necessary investment to get things underway."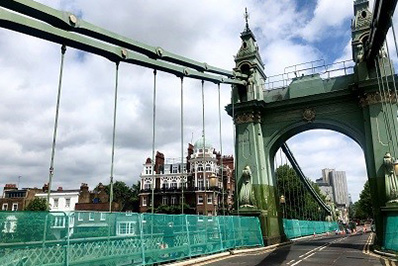 Notes for editors
If you are a journalist and would like further information about this press release, contact Fenna Maynard on 020 8487 5182. 
Reference: P439/20