Residents urged to take extra care when buying goods online
Release Date: 19 November 2020
Trading Standards officers are urging shoppers to be extra savvy when buying goods online – especially when getting Black Friday bargains or doing their Christmas shopping.
During National Consumer Week (Monday 16 to Sunday 22 November 2020), ahead of two big Christmas shopping days Black Friday and Cyber Monday, trading standards officers are also backing the British Toy and Hobby Association's (BTHA) call for caution when buying toys online.
Almost half of British adults (47%) have had issues with parcel delivery since the country first went into lockdown in March, new research by Citizens Advice reveals.
With more people turning to online shopping as a result of coronavirus, the charity has found that over half (51%) of people say they feel more reliant on having goods delivered.
New polling by Citizens Advice has found:
96% of people say they have ordered a parcel since March
The biggest problem consumers face is late delivery, with almost one in three people (30%) across the country facing a delay
Nearly one in five people (18%) who experience a parcel issue suffered some sort of financial loss, with 40% of those losing over £20
It is expected that online shopping will continue to rise, and current coronavirus measures will encourage its further growth as shoppers avoid the high street. The Council is joining the campaign to educate the public about how to shop online safely.
Cllr Julia Neden-Watts, Chair of the Environment and Sustainability Committee, said:
"Many more of us are having parcels delivered.
"As the countdown to Christmas gets underway it a good opportunity to remind residents of what their rights are when they shop online as part of this national campaign. We are keen to ensure that people look out for certain pitfalls before they shop online so as to avoid unnecessary costs and delays.
"I would also urge residents to consider options such as click and collect from local high street shops as an alternative, or offering your custom to trusted local businesses who may well be able to offer local delivery, sometimes by environmentally e-cargo bike. But of course, it is important to be careful, however you shop."
If ordering online, please remember:
Check delivery policies - B

efore you place an order find out what the delivery times, costs and returns policies are of the items you have ordered

If you are out of the house during delivery -

Consider asking a neighbour or friend if it can be delivered  to their address if you think it may be a time or date you are not home. But beware, if you do provide details of a safe space or nominated neighbour and something goes wrong it is not the seller or courier's responsibility

Online trader or online marketplace? - 

Make sure you know if you are dealing with a trader or a private seller on an online marketplace as dispute processes may vary.  If you have an issue with a trader, a dispute can be raised directly with them, but if it is a private individual it may be easier to go through a marketplace's dispute process

Review traders

- Check and review if the trader is genuine.  It is always worth taking a look at reviews to gain an insight as to how reliable the company is and how well they deal with missing parcel complaints and refunds

Who to deal with when a parcel goes missing - 

your purchase and contract is with the seller. If your parcel goes missing you should speak to the trader to deal with the problem, not the courier company
You can get information on your rights and advice about shopping online safely through Citizens Advice. To find out more about what local businesses are open, and shop local view Visit Richmond.
National Consumer Week is run by the Consumer Protection Partnership (CPP). The CPP brings together a number of organisations including Citizens Advice, government departments, regulators and consumer bodies to tackle consumer problems.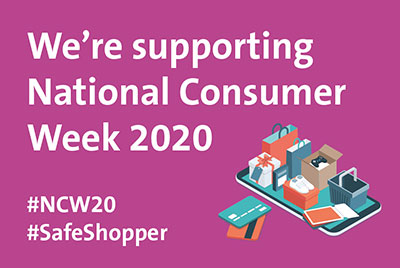 Notes for editors
If you are a journalist and would like further information about this press release, contact  Elinor Firth on 020 8487 5159.
Reference: P458/20
Updated: 01 September 2021