Have your say on Royal Parks movement strategy
Release Date: 23 November 2020
Residents are reminded that Royal Parks are inviting feedback on their trial Movement Strategy in Richmond and Bushy parks.
In August, Royal Parks launched a trial to create new car-free spaces in Richmond and Bushy parks and reduce the volume of through-traffic.
Whilst Richmond Council is generally supportive of the wider ambition of protecting the environmental and scientific status of the parks, concerns have been raised locally about the impact of the changes on the wider local areas.
To support Royal Parks with their trial, the Council has been carrying out a number of traffic counts in key locations in the local area. This includes Park entrances, approach roads serving the parks, and expected diversion routes. The surveys are being carried out at regular points throughout the whole trial period. TfL are also carrying out similar study work along their roads, for example, Upper Richmond Road West. The Council will be reviewing the results of all the studies to formally respond to the consultation.
 The deadline for feedback is 10 January 2020.
Cllr Alexander Ehmann, Chair of the Transport and Air Quality Committee at Richmond Council, said:
'We know that this is a trial that has pros and cons in both camps. Ultimately however, the management of traffic within Richmond and Bushy parks is matter for the Royal Parks.
'As this is a trial, it is important that we see what impacts the measures actually have and therefore we will be reviewing our surveys as part of our response, to make sure that the trial measures have not placed undue pressure on the traffic flows in areas around both parks.
'As we've already said, if either of these trials result in poor air quality, a decline in road safety or additional congestion in nearby communities where our residents live and work, then they may need amendment or could even prove unsustainable.'
Movement Strategy Trial Information:
Richmond Park: On weekdays, restricting all cut-through motor vehicle traffic between Broomfield Hill Car Park and Robin Hood Car Park and a full-time closure of the motor vehicle link between Sheen Gate and Sheen Cross. Additionally, on weekends the trial will restrict all cut-through motor vehicle traffic between Roehampton, Sheen and Richmond Gates to create a quiet zone on the north side of the park.
Bushy Park: A full-time closure of part of Chestnut Avenue between Teddington and Hampton Court Gates to motor vehicle traffic.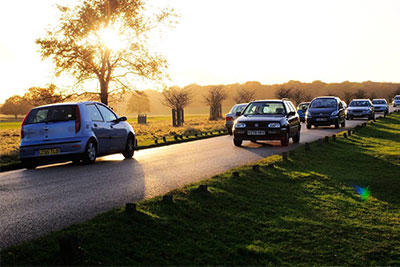 Notes for editors
If you are a journalist and would like further information about this press release, contact  Elinor Firth on 020 8487 5159.
Reference: P463/20