Council ready to support community during second lockdown
Release Date: 05 November 2020
As England moves into a second lockdown, Richmond Council is emphasising the support available in the borough to help residents over the next four weeks.
As a result of the new restrictions, from 5 November – 2 December, there are a number of changes to Council services, this includes:
However, schools, parks and playgrounds, Council-run day centres and Townmead Road Waste and Recycling Centre will remain open.
Cllr Gareth Roberts, said:
"I understand that this is a difficult and worrying time for our communities, residents and businesses, but these new restrictions are essential to keep Richmond upon Thames safe.
"None of us want to stop seeing our family and friends, but by following public health rules, helping each other and working together we can get through this, just as we did during the lockdown earlier this year.
"We must all play our part. Please stay safe, remember to stay at home, if you do go out – please keep 'hands, face and space' at the forefront of your minds at all times."
The Council would also like to remind residents of the support available to them throughout the lockdown. This includes:
Cllr Michael Wilson, Spokesperson for Communities, Equalities and the Voluntary Sector, said:
"We are very lucky in Richmond to have an active and thriving voluntary sector and an army of volunteers and community organisations who are ready and willing to help. Over the past few months we have provided over £210,000 funding to many of these organisations to help them provide vital services or grants, enabling them to continue their work.
"We also have made available a number of grants ourselves, such as our COVID Hardship Fund or Local Assistance Scheme. If you need help or support – reach out now. There is a vast amount of information on our website, or via our Community Hub. If you know somebody who may need help but aren't comfortable using the internet or do not have an internet connection, please share the Hub telephone number with them."
The Council has also increased its efforts to combat coronavirus locally, with a number of new initiatives. This includes:
Find more information about coronavirus in Richmond upon Thames and the support available. Remember, if you have coronavirus symptoms, please get a test now!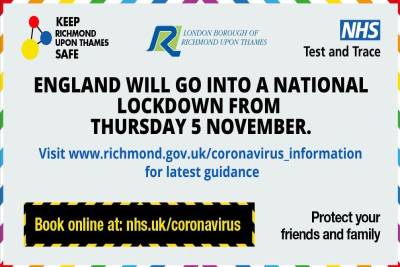 Notes for editors
If you are a journalist and would like further information about this press release, contact  Elinor Firth on 020 8487 5159.
Reference: P436/20