Care technology helping the vulnerable during COVID-19
Release Date: 10 November 2020
Vulnerable residents in Richmond upon Thames will be supported by a new, innovative, videophone system - helping them to access help from within their own home!
In partnership with Alcove, Richmond Council is rolling-out the new response to the COVID-19 crisis, by providing virtual care and health and wellbeing support to vulnerable people through Alcove Video Carephones.
The Carephone is an easy to use video communication tablet that allows people with little or no technological expertise to engage in two-way video calls with family, friends, care workers and other approved service providers. This will help care workers to perform tasks that do not require face-to-face visits and will also help vulnerable people to keep in contact with their loved ones whilst eliminating the risk of COVID-19 transmission.
Cllr Piers Allen, Chair of the Adult Social Services, Health and Housing Services Committee at Richmond Council, said:
"The pandemic has been really tough on our most vulnerable residents and their families. This new system will not only provide people with care and support calls, but help them with loneliness and to connect more easily with the support networks in their community.
"The service will supplement regular care visits and allow residents to receive care virtually for identified tasks. Those people who need face-to-face care will of course, still receive that level of care.
"There is also the added benefit that friends and family can check-in on their loved ones at any time. This initiative is a prime example of how technology can enhance the care and support provided by carers, helping to keep people connected whilst also providing that extra support."
If you feel a Video Carephone would help a relative or friend who receives Council care or a support package, please email digitalsupport@richmondandwandsworth.gov.uk to find out more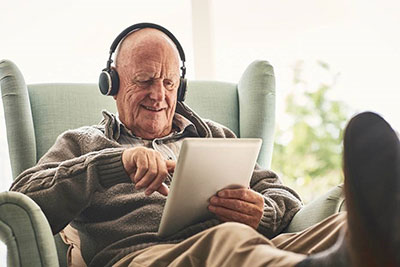 Notes for editors
If you are a journalist and would like further information about this press release, contact Elinor Firth on 020 8487 5159. 
Reference: P442/20