Please think twice before holding home displays this Bonfire Night
Release Date: 03 November 2020
With organised firework displays cancelled this year due to COVID-19, Richmond Council is joining the call from London Fire Brigade (LFB) asking residents to think twice about holding a home firework display or building a garden bonfire and to consider celebrating a different way with fewer risks.
Last year, the LFB attended more than 2,000 incidents over the Halloween and Bonfire Night period (29 October to 12 November). Over the last five years 45% of fires ignited by fireworks during the Bonfire Night period occurred at residential properties.
Cllr Gareth Roberts, Leader of Richmond Council, said:
"We know that most of the big public displays are cancelled this year, so many people will be reaching for the supermarket fireworks as an alternative, particularly now that we will be in Lockdown from Thursday. We don't want to be party poopers, however, we are keen to get the balance right between protecting people and enabling them to still enjoy themselves.
"For those who do decide to hold a home display, please remember to do so responsibly. Fireworks are explosives and should be treated with respect and only in accordance with the manufacturer's instructions.
"And importantly, remember to follow the COVID-19 guidance. Particularly, under the lockdown rules you are NOT allowed to visit other people's homes, unless they are your support bubble."
Alternatives to bonfires and fireworks on 5 November include:
Make your own Guy and display him on your doorstep. Perhaps arrange a competition with your neighbours to find the best Guy
Watch the skies. If the weather allows, try stargazing and enjoy the natural lights show in the night sky
Get cooking. Make firework and bonfire-inspired snacks, such as biscuits iced with firework-like explosions of colour or cupcakes decorated to look like bonfires. And don't forget the sticky parkin and warming hot chocolate
Be crafty: Try fireworks arts and crafts, such as making a toilet roll holder rocket, creating colourful firework paintings or collecting autumn leaves to make a firework collage
London Fire Brigade's Assistant Commissioner for Fire Safety, Paul Jennings. added:
"As public firework displays are not taking place this year, we understand you may still want to celebrate. But we urge you to think twice about holding a firework display or building a bonfire in your garden.
"Think about your neighbours, particularly older people or those who are self- isolating, pets and of course those of us in the emergency services.
"Despite our warning if you do choose to have your own display, never drink alcohol and set off fireworks, keep fireworks in a closed metal box and only ever buy ones which carry the CE mark.
"Bonfires should be clear of buildings, sheds, fences and hedges. Bonfires in your back garden can especially be dangerous.
"This time of year is usually one of the busiest for firefighters and Control Officers and we also need to support our NHS colleagues, so please help us, by keeping yourself safe."
See this flyer about using fireworks safely.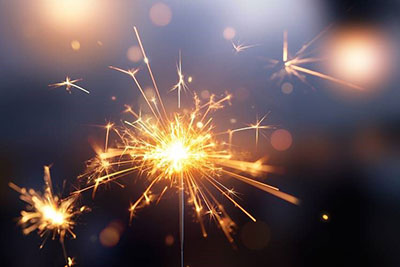 Notes for editors
If you are a journalist and would like further information about this press release, contact  Elinor Firth on 020 8487 5159.
Reference: P433/20