In less than a week, a series of rapid temporary measures have been installed in Richmond Town Centre, Richmond Bridge and East Twickenham to help pedestrians observe social distancing whilst making essential journeys.
Over the past week, temporary measures have been put place at key pinch points from Richmond through to East Twickenham, as part of plans to assist residents with safe distancing from one another as they go about essential journeys on foot and bicycle. Works include:
George Street – Two sections of safety barrier within the main carriageway to create additional space for pedestrians (outside M&S and on the approach to the Duke Street junction). This will also include:
A suspension of the disabled bay outside Tesco and removal of 2 cycle parking spaces to create additional footway space around the frontage of the store.
The temporary closure of bus stop A on George Street to facilitate the safety barrier to the front of M&S. All bus services to operate from bus stop B (outside Top Shop).
King Street - A temporary loading bay in King Street to replace 3 existing pay and display bays (outside numbers 12 – 15), to relieve the loading pressure from George Street as more shops re-open.
Richmond Bridge junction of Petersham Road – a temporary widening of the existing traffic island to improve safety for pedestrians crossing at this point.
Richmond Bridge  – an advisory one-way pedestrian flow on separate pavements across Richmond Bridge.
Richmond Road - a temporary bus stop border (an area of footway widening) at the Twickenham bound 'Cresswell Road' bus stop and suspension of the three parking bays between this stop and Cambridge Road to provide additional room for pedestrians.
Cllr Alexander Ehmann, Chair of the Highways and Air Quality Committee for Richmond Council, said:
"Our officers have worked really hard to put in place these urgent, temporary measures to enable pedestrians observe social distancing.
"It will take a little while for people to get used to the changes, but I urge people to take notice of the signage – both on the floor and on posts – and behave inline with the guidance.
"These measures are the first of many, with officers exploring other locations and longer-term improvements that aim to make it safer for people to move around once public movement restrictions are eased.
"Over the next few weeks we will be announcing more of our plans, and our Rapid Response Team will be investigating other pinch points around the borough that might need a similar response."
For concerns about pinch points and areas that cannot support social distancing, please email: socialdistancing@richmond.gov.uk.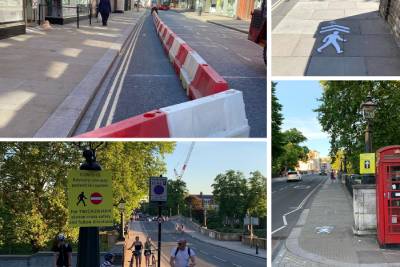 Notes for editors
If you are a journalist and would like further information about this press release, contact Elinor Firth on 020 8487 5159.
Reference: P184/20