Virtual event on COVID-19 vaccine for local people from Black, Asian and minority ethnic communities
Release Date: 05 March 2021
A panel of health and care experts from across Richmond upon Thames are set to chair an online question and answer session to help provide reassurance on the coronavirus vaccine to concerned people from the borough's Black, Asian and minority ethnic communities.
Hosted by Ravi Arora from Multicultural Richmond, the event will take place virtually between 2 and 3.30pm on Tuesday 23 March. It will enable those with concerns about the coronavirus vaccine to put their questions direct to local health and care experts.
It is hoped that by providing a safe online forum in which all people, especially those from BAME communities, can ask questions and seek information, more people will be open to receiving the lifesaving coronavirus vaccine.
National research suggests there is a lower degree of vaccine confidence in people from a Black, Asian or minority ethnic background.  
Among the speakers who will be taking part in the online session will be Dr Patrick Gibson (Richmond CCG), Dr Shanaz Meeran (GP Partner at Sheen Lane Health Centre) and Dr Jayin Jacob (GP Partner at Vineyard Surgery in Richmond).
Ravi, from Multicultural Richmond, said:
"We know that many of the people who have concerns about the vaccine are from our BAME communities, and it is these groups that the data shows are most at risk from serious illness after catching Covid-19. 
"The aim of this event is to listen to concerns, provide genuine up-to-date information and dispel any rumours that may be causing anyone to think twice about having the vaccine."
Dr Patrick Gibson, GP lead for Richmond at SW London CCG said:
"We know that everyone comes at the decision to have a vaccine based on their different backgrounds and experiences with healthcare. That's why it's incredibly important to me and my GP colleagues in Richmond that everyone gets the right information and the facts about the COVID-19 vaccines.
"I'm really looking forward to this event so we can answer your questions and give people the information they need."
Cllr Piers Allen, Chair of the Adult Social Services, Health and Housing Services Committee for Richmond Council, and Chair of the Health and Wellbeing Board, added:
"We understand there is a real reluctance for some to take the vaccine which is a brought on by a series of myths and misinformation spread online and through various social media sites.
"Please do not believe this misinformation but rather take up this opportunity to be informed by experts and trusted community leaders. The vaccine is perfectly safe and it is important that all residents feel confident to take up the offer of a vaccine.
"With the end of lockdown now on the horizon, we want to ensure that as we return to a more open way of living, all of our residents have been protected, and are able to do all the things they once did in as safe a way as possible.
Join the event
Any person wishing to join the event, which will take place Zoom, can register now. The event will be filmed and will be available online afterwards.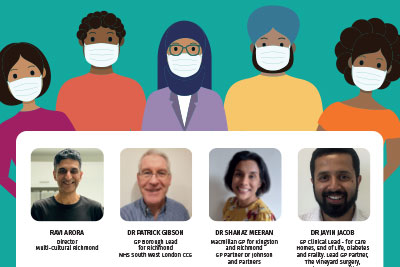 Notes for editors
If you are a journalist and would like further information about this press release, contact Elinor Firth on 020 8487 5159.
Reference: P099/21