Richmond remembers local lives lost to COVID-19
Release Date: 23 March 2021
Today, Richmond Council is joining the national day of reflection, to recognise the lives lost to COVID-19.
Since the first lockdown began in 2020, thousands of people have died across the UK, to date that includes 319 local people.
Today (23 March) is the first anniversary of the first UK lockdown, and Richmond Council is joining the Marie Curie's National Day of Reflection to reflect on our collective loss, support those who've been bereaved, and hope for a brighter future.
To mark the day, Richmond Council will be joining the nation by lighting up Garrick's Temple in Hampton, tonight from 8pm. Residents are encouraged to show their support and create a colourful poster or shine a light at their window.
In addition, to recognise the unprecedented loss we are all facing, the Council will be planting one tree in each ward later on in the year. The 'COVID Remembrance' trees will be placed in key locations, as a long-term sign that those lost will never be forgotten.
Mayor of Richmond upon Thames, Cllr Geoff Acton, led the tributes. He said:
"It important that we all come together to reflect on our collective loss, celebrate the lives of the special people no longer here, support those who've been bereaved and look towards a much brighter future.
"Grief is difficult to manage at any stage of life. But we know that this year, those grieving at home have endured a myriad of restrictions and limitations that have profoundly affected their ability to grief and heal.
"Today is an opportunity to mark the huge amount of loss we've seen this year and show support for everyone who has been bereaved in the most challenging of circumstances – be that from COVID-19 or any other cause.
"If you have been impacted by grief, please remember that there is support available. No one needs to be alone."
More information about the National Day of Reflection.
Hear from Cllr Acton on YouTube
To access local grief support, go to Cruse.
Call Cruse Bereavement Care national helpline for emotional support on 0808 808 1677.
To find out more about their free, regular telephone or Zoom support sessions with a trained and experienced Richmond Cruse Bereavement Care volunteer or our local Walk and Talk Group, please leave your name, number and home postcode on 0749 5777 401 or send an email to referrals@cruserichmonduponthames.org.uk. They aim to get back to you within 24 hours weekdays. They support bereaved children and young people as well as adults.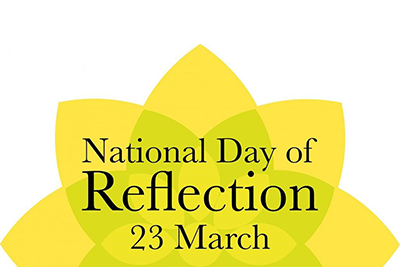 Notes for editors
If you are a journalist and would like further information about this press release, contact Elinor Firth on 020 8487 5159.
Reference: P121/21