Skiff Club boat re-launched after restoration

28 June 2022
The Skiff Club in Teddington recently re-launched one of its oldest boats after an extensive restoration.
Founded in 1895, the Skiff Club was the first club formed to be devoted to skiff racing. Shortly after, the club commissioned the first boats built as a matched set to ensure fair racing, a set of three double skiffs in 189, followed soon after by three singles. The boats were built by R J Turk of Kingston, whose boathouse on Lower Ham Road was also the Club's first home.
Over the past ten years, all these boats have had extensive work done to extend their lives even further. All the excellent restoration work has been carried out by boat builders Stanley and Thomas in Windsor. The most recent boat completed marks the end of this project.
This boat was named after G.J Davies, one of the club's founders and Captain of the Club in most years from 1903 to 1920. He was also the first Secretary of the Skiff Racing Association (founded 1901) a post he held for 33 years.
R J Turk's company is now run by his great grandson, also Richard. The Skiff Club was pleased that Richard was able to attend the re-launch, together with his cousin, another Richard! In the photograph, Skiff Club President Graeme Mulcahy is flanked by the Richards, grandson nearest the camera.
The Skiff Club continues to welcome all comers to enjoy good exercise on the river, and racing at local regattas for the more energetic ones.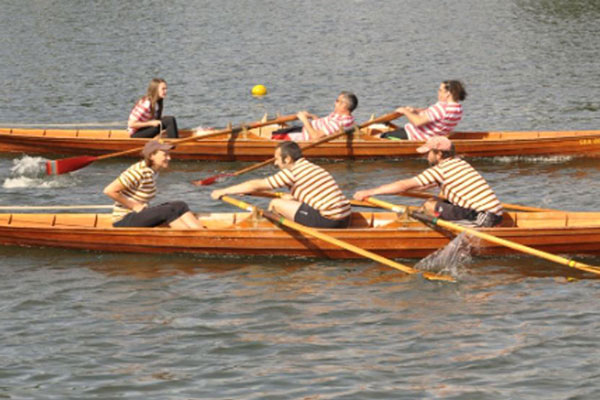 Community news on behalf of The Skiff Club