A series of rapid temporary measures will be installed on the roads and pavements in Teddington Town Centre to help support social distancing.
As part of the Council's Post Covid Transport Action Plan (PCTAP), the Council has responded to concerns from local residents and businesses regarding sections of narrow and congested footways on Broad Street and Teddington High Street.  As a result of these representations, within weeks the Council will put in place temporary measures at key pinch points on these roads.
These measures are the latest in a series of changes in recent months. The Council has already put in place pavement widening in Richmond Town Centre and East Twickenham, one way pedestrian working across Richmond Bridge, announced plans to pedestrianise Church Street, delivered three School Streets for local Primary Schools, laid down social distancing graphics on outside of a number of schools and implemented an urgent upgrade to the cycling lane on Kew Road.
Further changes will be clarified for other priority town centres, improvements to commuter cycling infrastructure and further actions to support schools. The full strategy will be presented to the Transport and Air Quality Committee on the 18th June 2020.
Councillor Alexander Ehmann, Chair of the Transport and Air Quality Committee, for Richmond Council, said:
"We are committed to making our high streets safer and more attractive and accessible for pedestrians and cyclists and to improve the flow of traffic.
"As we come out of lock-down, our town centres need to provide comfort and safety for our returning residents.
"Teddington is a fantastically well supported shopping area, with a tremendous array of traders and great community spirit.  We've had to work at tremendous pace to make these changes and I am grateful to everyone involved.
"These initial modifications are aimed to improve the setting and aid social distancing for visitors.  I hope very much that these changes contribute to providing more confidence for us all to get out and support these important businesses that sit at the heart of our communities."
For concerns about pinch points and areas that cannot support social distancing, please email the Rapid Response Team: socialdistancing@richmond.gov.uk
Broad Street
Temporary suspension of the 5 pay and display parking bays on the same side of the road as Tesco, between the pelican crossing and the junction of Stanley Road. This area will be barriered to create additional space for pedestrians.
The introduction of a temporary wider footway at the Bus Stop directly outside of the Hogarth PH to create additional space for pedestrians to pass queuing bus passengers. This also requires suspension of 1 pay and display parking bay outside Gosia's Café and Deli.
High Street
Temporary suspension of the 2 pay and display parking bays outside of the post office. This area will be barriered to provide additional space for pedestrians.
Temporary removal of 3 cycle stands from outside The Shambles Restaurant and realignment of the remaining 2 to a position parallel to the kerb to create additional space for pedestrians. We will look to install the 3 stands elsewhere within the local area.
Temporary removal of 2 bollards from the junction to the M&S car park to reduce conflict with the queue into the store for passing pedestrians.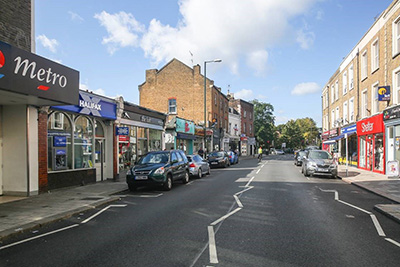 Notes for editors
If you are a journalist and would like further information about this press release, contact Elinor Firth on 020 8487 5159.
Reference: P230/20