Residents across the borough are encouraged to continue to back local businesses and high streets this week, as they adapt to new ways of trading and start to reopen after lock-down.
Richmond Council has been working hard during the coronavirus pandemic to support local business by providing access to funding where possible or signposting to other sources of financial help. Over the next few months the Council will be further working with local businesses to see what we can do collectively to help. We are holding a Business Summit at the end of June.
Public health is the biggest priority, and the Council has been working with many local businesses to ensure their shops are safe to reopen for staff and customers.
Cllr Richard Baker, Lead Member for Business, Economics and Employment for Richmond Council, said:
"The COVID-19 pandemic has brought change and disruption to nearly all our local businesses. Over the past month all businesses eligible to reopen from this week have been working hard to look at how they can open, making sure that safety is their top priority – for both their staff and customers.
"Our local businesses have never been under so much pressure. And, we all must help. Many of our local businesses are run by local people, local families. These are our neighbours, friends and family.
"But we all have a real opportunity to support and celebrate our local traders. The phased reopening of non-essential retail businesses from the June 15 will bring some normality to the lives of local people. While we are all spending more time at home, now is the perfect time to explore local shops that we may not have had the chance to before and to support much-loved businesses we know well.
"We must stick to social distancing and follow the robust safety systems shops have worked hard to implement, we can then safely make a conscious choice to shop locally, protecting local businesses and even supporting growth in these challenging times."
To travel to shops and high streets, boroughs are also asking residents to walk or cycle where possible and avoid using public transport unless necessary. If people do use public transport, wearing a face mask while travelling by bus, train or Tube will be mandatory from June 15 and planning journeys to avoid peak times is highly recommended.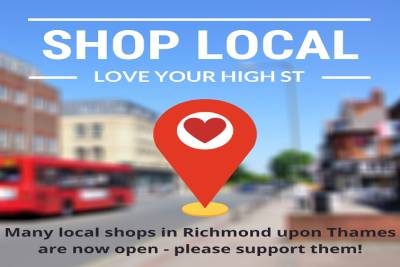 Notes for editors
If you are a journalist and would like further information about this press release, contact Elinor Firth on 020 8487 5159.
Reference: P225/20