The Hampton Bike Project at Hampton Methodist Church has launched a public appeal for second-hand bicycles of all conditions to be donated to help get refugees and asylum seekers cycling.
The Hampton Bike Project are asking residents to donate any second-hand or un-used bicycles that they might have. The Bike Project take donations of second-hand bikes and fix them up before donating them to local refugees and asylum seekers.
The Bike Project are urgently seeking donations from the public of bicycles of all sizes and condition. Bikes donated to The Hampton Bike Project will be refurbished and then donated to refugees and asylum seekers who will benefit from the independence of their own reliable mode of transport.
Due to current public health restrictions in place the drop-off collection service has been suspended. However, donations can be arranged with organisers based on a one to one drop-off. Bicycles have become increasingly in demand for many as residents look to avoid public transport following Government guidance.
Cllr. Gareth Richards, Richmond Council's Cycling Champion said:
"The Hampton Bike Project is a fantastic initiative providing refugees and asylum seekers with an invaluable mode of transport. Bicycles can provide a vital mode of transport to help refugees and asylum-seekers access local services especially for those who might have to travel considerable distance to access these service. It can also provide a great form of independence for newly settled refugees and asylum seekers to help them integrate into communities.
"With members of the public being urged to avoid public transport where possible at present this scheme also helps those who might depends on such services to enable and encourage more people to cycle."   
Due to the ongoing COVID-19 pandemic, the drop off point at Hampton Methodist Church has now been closed and collections are not possible at this time. To arrange a donation to The Bike Project please email Mrs. Wendy Salmon at wig_6534@hotmail.com.
Find out more about the Bike Project.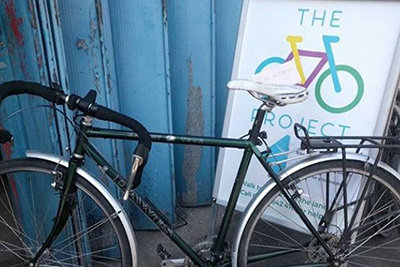 Notes for editors
If you are a journalist and would like further information about this press release, contact Jeff Gibbons on 020 8487 5178.
Reference: P198/20