Pairs of colourful footprints have been installed outside schools to help children and their families adhere to social distancing whilst queueing during the drop off and pick up times.
As part of the Council's Post COVID-19 Transport Strategy, last week we announced the borough's first Schools Streets in the borough. In addition to the three schools piloting the initiative, the Council's highway's team have assisted others by installing  pairs of colourful footprints, spaced 2 metres apart, on the pavements in the lead up to school gates and beyond. 
So far four primary schools have taken up the offer of the installation and are in the process of receiving their footprints, with more due to be installed in the coming weeks.
Cllr Alexander Ehmann the Chair of Richmond's Highways and Air Quality Committee, said: 
We want to do everything we can to help families travel around the borough by foot or by bike, particularly as they arrive to school each morning.
"These floor graphics are a colourful reminder to our younger residents that they should continue to observe two metre distancing. I hope that even more schools are able to take up the initiative."
Other schools interested in the floor footprints should email: lisa.fenn@richmondandwandsworth.gov.uk.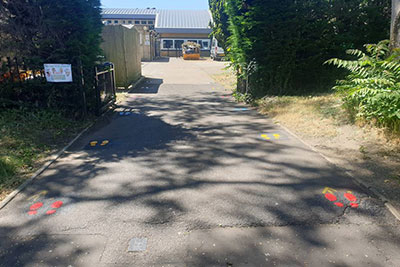 Notes for editors
If you are a journalist and would like further information about this press release, contact Jeff Gibbons on 020 8487 5178.
Reference: P202/20