With fewer cars on the road during the COVID-19 pandemic, the Council is urging residents and visitors to stick to the borough-wide 20mph speed limit across Richmond upon Thames.
Last month the Council completed the roll-out of the new speed-limit, but at the same time London has seen an increase in speeding on roads during the COVID-19 pandemic. The Met Police reported a 119% year on year increase in speeding enforcement between the start of lockdown on 24 March and 20 May 2020, with 6,379 offences enforced.
During this period, police officers and staff have maintained regular patrols in Richmond, particularly in hot spot areas reported by local communities.
Councillor Alexander Ehmann, Chair of the Transport and Air Quality Committee, said:
"Lower vehicle speeds benefit people, communities and the environment by creating a safer and more pleasant space. Compliance with speed limits is more important than ever - as life moves to the post-COVID-19 'new normal', we need to keep the high numbers of pedestrians and cyclists on our streets safe.
"The Council is implementing a number of initiatives to help residents as they move around the borough, including the launch of our first three School Streets, improving the provision of pedestrian space around the borough, the implementation of innovative one-way systems for pedestrians (such as on Richmond Bridge), and urgent upgrades to key cycle lanes (including recent changes to Kew Road). 
"These all make it safer for pedestrians and cyclist to use our roads, so I urge residents to use these extra facilities and consider leaving their cars at home. 
"For those whose car journeys are essential, please do your bit by keeping below the 20mph limits and help to ensure the safety of the increased foot and cycle traffic on the borough's roads."
Chief Superintendent Sally Benatar, South West BCU Commander, and Detective Superintendent Andy Cox from the Roads Transport Policing Command said:
"Speeding remains our biggest risk to road safety and our number one focus for traffic enforcement. Day and night, each and every day, roads policing officers are patrolling roads across London. We urge people to drive within the speed limit, stay safe and keep a clean licence. We thank the majority of lawful road users who are doing so and are pleased that serious collisions have considerably reduced when compared to 2019. Drink drive is rightly seen as socially unacceptable and we urge everybody to treat speeding in the same way. Challenge family, friends and yourself not to speed. Make it socially unacceptable; change driving culture and help save lives."
Speeds across the borough will continue to be monitored by the Safer Roads Team and the Council and further signage and other measure will be considered. Email 20mph@richmond.gov.uk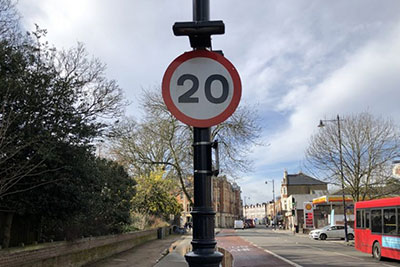 Notes for editors
If you are a journalist and would like further information about this press release, contact Elinor Firth on 020 8487 5159.
Reference: P228/20