Richmond town centre has a new 'Safe Space' on Friday and Saturday nights
13 July 2022
Richmond Council and its partners have launched the 'Safe Space Richmond' initiative in Richmond town centre to provide a safe space for women and girls, or anyone who is feeling vulnerable, on Friday and Saturday nights.
The initiative is a joint venture between Richmond Council's Community Safety Service, Richmond Safer Neighbourhood Teams, British Transport Police, South Western Railway Rail Community Officers, and Street Pastors. It launched on Saturday night (9 July 2022) and will run every Friday and Saturday night from 9pm until 1am, until 10 September 2022. If the initiative is a success, it will likely run again over the festive season.

Richmond upon Thames is one of London's safest boroughs and currently experiences the lowest number of crimes per 1,000 people. However, a safe space in one of the borough's busiest areas at night should help people feel more at ease when enjoying the night-time economy this summer.

The space is in the pedestrian area outside the Richmond Train Station and near to the bus stops linking the station to other parts of the borough. It consists of a gazebo with staff from all the partner agencies who are on hand to provide a safe environment for anyone who might need help or advice whilst out in Richmond town centre.

On Saturday night (9 July 2022), the Safe Space Richmond team spoke to over 40 people. People who engaged with the team were encouraged to download the free Railway Guardian app, which helps you report crime to British Transport Police and provides information on what to do if you see sexual harassment on trains or at stations. People were also reminded about the 61016-text service for reporting incidents.

Cllr Gareth Roberts, Leader of Richmond Council, said: "We know people can feel unsafe at night and that Richmond town centre is one of the borough's busier places on a Friday and Saturday night. The Safer Space by the railway station will provide people with a place to go to get advice or any help, should they need it.

"This work is part of the Community Safety Partnership's long-term strategic approach to ending violence against women and girls and improving the safety of women at night. I'm proud to see this initiative in place and hope it provides reassurance that the Council is working with its partners to deliver improvements to people's safety."

Local Neighbourhood Inspector Jon McLoughlin said: "This is an excellent initiative which my local teams will fully support. Our aim is to continue to keep Richmond Upon Thames one of the safest boroughs in the Met for our communities. This will bolster and enhance our response team presence in the area by offering a safe space for all in need".

Sergeant Julian Mason @BTPLONDON Richmond Proactive Team Sergeant said: "A vision I had only 2 months ago for a location that persons utilising the night-time economy in the town centre via the Railway network and buses could go to if needed. I wanted to create something innovative with a collaborative approach to ensure those that live and visit the Borough feel safe and those out to prohibit that via criminality are dealt with by BTP and Metropolitan Police officers".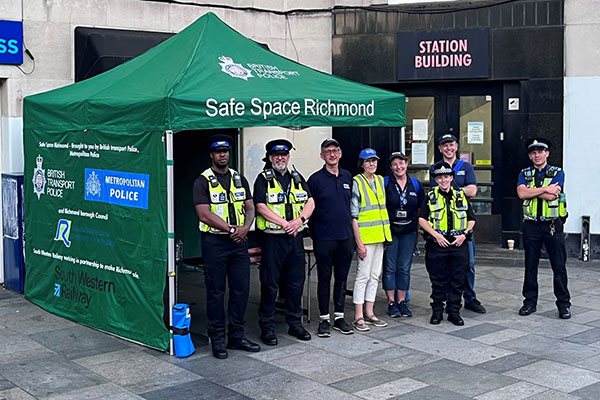 Updated: 14 September 2022