Richmond students launch innovative sustainability projects in Twickenham

27 July 2022
For the end of the summer term, Richmond upon Thames College (RuTC) HNC and HND Graphic Design students, were instructed to use the theme 'sustainability' to create their respective final major projects.
The students were given free rein with this project and turned this globally crucial theme into two exciting website projects.
In total, nine students took part in the two group projects, six for HNC and three for HND. The HNC students titled their project 'Green Ldn' and the HND students, named their project 'Evergreen trail.'
The students are passionate about educating and encouraging others about the beauty and feasibility of sustainable living and banded together to use their graphic design and craft skills.
Green LDN was designed with pastel and ice cream colours to bring a sense of fun and show that sustainable living can be an enjoyable way of living. Each student created their own page on the website 'Green Ldn' named after their specific project and offering the option to either buy or make sustainable items listed on their webpage.
The EverGreen Trail project is on display in Orleans House Gallery in Twickenham and is a walkable adventure around the gallery's courtyard displaying hand-made ceramic animals – each with a QR code linking back to the EverGreen website with information on where the animal can be found, what they eat and other information. Again, each student had their own dedicated page on the site which illustrated their specialist topic.
Tim Pond, Architecture and Graphic Design teacher at RuTC explains, "Living sustainably enhances our standard of living, safeguards our ecology, and protects natural resources for future generations. Living sustainably means we can live and flourish without depleting more natural resources. Particularly in the case of the HNC project by reusing and reimaging the things we have already made."
"By increasing awareness, art and design practices can significantly contribute to sustainability. It is also important for us as practitioners to think about how sustainability concerns affect our own practice.
"Our choices regarding the tools and techniques we employ in our work can help to create a more sustainable future."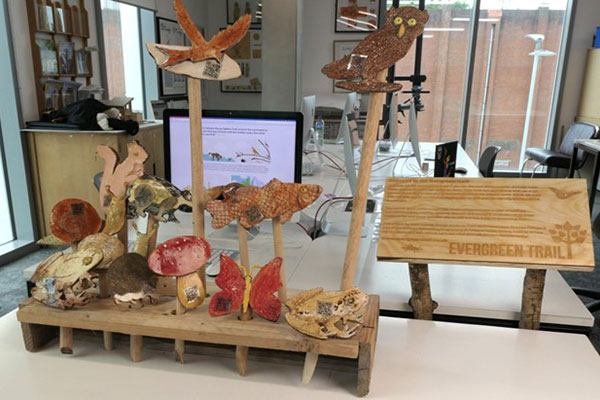 Community news on behalf of Richmond Upon Thames College