Help reduce your risk of dementia by eating a healthy, balanced diet
18 July 2022
A diet that is high in saturated fat, salt and sugar, and low in fibre, can increase your risk of high blood pressure, high cholesterol, becoming overweight or obese and type 2 diabetes - all of which are linked to a higher risk of dementia.
The best way to reduce your risk of dementia is to adapt various aspects of your lifestyle, including adapting your diet, exercising regularly, giving up smoking, and maintaining normal blood pressure and cholesterol levels.
When it comes to your diet, there is evidence that eating a Mediterranean-style diet may reduce the risk of developing problems with memory and thinking and getting some forms of dementia.
Mediterranean diets are traditionally high in fruits, vegetables, legumes and cereals, with moderate consumption of oily fish and dairy, and low in meat, sugar and saturated fats. Find out more about this on the Alzheimer's website.
Additionally, eating a healthy, balanced diet is an important part of maintaining overall good health. The NHS 'Eatwell Guide' shows you how much of what we eat should come from each food group to achieve a healthy, balanced diet. This includes trying to:
Eat at least five portions of a variety of fruit and vegetables every day (see 5 A Day)
Base meals on higher fibre starchy foods like potatoes, bread, rice or pasta
Have some dairy or dairy alternatives
Eat some beans, pulses, fish, eggs, meat and other protein
Choose unsaturated oils and spreads, and eat them in small amounts
Drink plenty of water (at least six to eight glasses a day)
This is part of a new campaign to increase awareness of the healthy behaviours you can adopt which may help reduce your risk of getting dementia.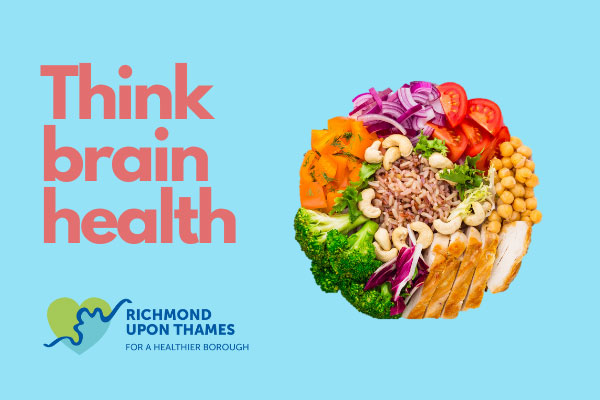 Updated: 14 September 2022