Council waives fees to encourage 'Play Streets' for family fun
7 July 2022
Families in Richmond upon Thames are again being invited to come out and play as part of Car Free Day this September, with a scheme aimed at encouraging children to play outside in their streets. 
Postponed for the last two years due to the pandemic, Richmond Council is again encouraging people to hold a Play Street on Saturday 24 or Sunday 25 September 2022, by closing their roads to through-traffic for up to four hours. It means children will be able to play outside and have fun with their friends, family and neighbours.   
 
To encourage as many streets as possible to take part, the Council is again waiving the administration costs to the road closures and hopes to build on the success of this year's Jubilee Street Parties which saw over 300 street parties held across the borough. 

The Play Street programme is part of a London-wide campaign by London Play and Transport for London. 

Cllr Alexander Ehmann, Richmond Council Cabinet Member for Transport, Street Scene and Air Quality, said:  
 
"Due to the pandemic, we have been unable to host Play Streets for the past two years, but I'm delighted that they're back for 2022. In 2019 we had over 60 Play Streets with fun activities ranging from bouncy castles to street skittles, or just allowing children to play outside their homes.
 
"I hope that even more residents take the opportunity to replace the usual hustle and bustle of car engines and with the sound of kids playing. We had the highest number of play streets in London in 2019 and this year we hope to have even more!" 
  
To host a Play Street, residents need to get permission to have their street closed and will need to speak to their neighbours in case there are any objections. 

Residents will also be responsible for organising and supervising events, including ensuring someone is present to allow safe access if required for residents' cars and emergency vehicles. Any street can apply, providing their street isn't a main road, bus route or emergency vehicle route. 
Find out more about Play Streets and apply before this year's deadline of Sunday 14 August.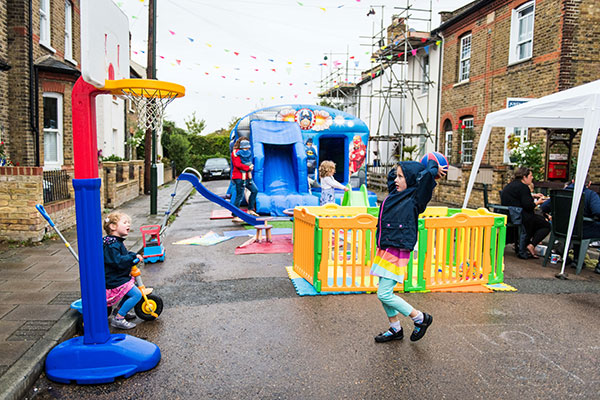 Updated: 14 September 2022