Surge in pupils at school sparks call for limit
Release Date: 11 January 2021
The Government is urged to tighten the list of those who are able to return to school, following some schools in Richmond seeing over 60% of pupils in classrooms each day.
In response to the rising number of cases of coronavirus, the Government closed schools as part of the national lockdown. However, vulnerable children and those of key workers can still attend. In this second Lockdown, the eligible list of those who can attend is vague, and families are now told that only one parent or carer needs to be a key worker. The vast majority attending are not vulnerable. In most cases, the parents are home working.
This has meant a surge in the number of children returning to school, compared to the first lockdown. School staff are having to teach almost full classes, whilst at the same time ensure a complete remote learning package is in place. They are also juggling staff absence due to COVID-19.
Cllr Gareth Roberts, Leader of Richmond Council, said:
"We know that school pupils now can transmit the virus through their homes, through to their families and into the community.
"You combine that with the new variant being up to 70% more infective than the previous strain, then it's clear we have to do something to break the chain of rising levels of infection in our community.
"Our schools are working so hard to make sure that all children receive a quality education during the pandemic. But, they will soon be at breaking point.
"Teachers and children are not immune from Coronavirus. They can all get it and importantly spread it. If such high numbers continue to attend then we are not going to break that chain.
"We are urgently seeking clarification from the Government about the maximum number who should be in school while protecting public health.
"We know that for parents it is tough having to juggle home schooling whilst working from home. But, it seems completely illogical that we have such a high number of children returning, given the fact that the Government has taken the drastic action of a full national lockdown precisely in order to limit contacts."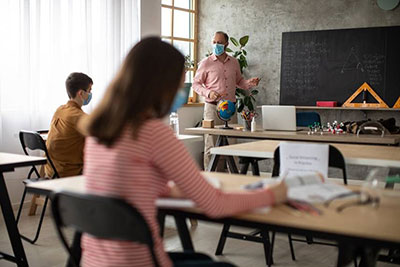 Notes for editors
If you are a journalist and would like further information about this press release, contact Elinor Firth on 020 8487 5159.
Reference: P15/21