Supermarkets asked to redouble their efforts to make staff and customers safe
Release Date: 12 January 2021
News that some supermarket chains are tightening their COVID safety measures is welcomed by Richmond Council, however, ALL supermarkets are being asked to redouble their efforts and make sure that their staff and customers are safe.
Over the past few weeks, there have been growing reports of supermarket staff and customers not all following the rules around face coverings or social distancing. With regular concerns being raised about enforcement inside shops.
Whilst the Council's Food and Safety team are working hard to liaise with supermarkets and make sure they are aware of the guidance and are regularly training/briefing and checking that their staff know what they have to do, they have written to each of the major super markets in the borough to ask them redouble their efforts.
Cllr Richard Baker, Lead member for Economics and Business for Richmond Council, said:
'Our supermarkets are vital. For many people they will be the only place they will visit whilst the lockdown is in place. Over the past ten months all our supermarkets have worked so hard to make sure their staff and customers are safe. However, we know that fatigue is setting in and we need everyone to dig deep. Otherwise we won't combat this virus.
'To customers – don't put yourselves, your family or other customers at risk. Shop alone and wear a face covering when you are in a store. Make sure you social distance from other customers and staff. And if the shop looks too busy – return at a quieter time.
'To the staff – please follow the rules. I know wearing a face covering for seven hours is uncomfortable – but it is vital. And wear it properly, over your nose and mouth all the time. If you think that social distancing isn't being observed – both on the shop floor and behind the scenes, speak to your manager.'
To help offer additional reassurance to Supermarket staff, they are reminded that they can access regular asymptomatic testing.
This is available to book online.
See the full letter that has been sent

(pdf, 223 KB).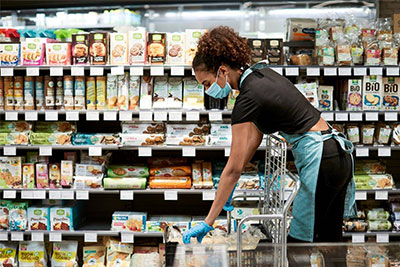 Notes for editors
If you are a journalist and would like further information about this press release, contact Elinor Firth on 020 8487 5159.
Reference: P018/21