Shop safely - don't take COVID home!
Release Date: 26 January 2021
Following reports of lengthy queues outside shops and cafes in Richmond, the Council is reminding customers to not aid the spread of COVID-19 and shop safely.
Under the lockdown rules, you are only able to leave your home when you have a 'reasonable' excuse, this includes shopping for essential items and exercising once a day, either alone, with your household or support bubble or with one other person.
There are increasing reports of lengthy queues outside of open shops or cafes/takeaways in Richmond upon Thames, where customers are not following the rules to ensure their own safety - and the safety of others.
Therefore, residents are reminded that when queuing to collect an 'essential item', they should: 
Maintain social distancing and stay two metres apart from other shoppers
Wash your hands regularly with soap and water for 20 seconds or use hand sanitiser
Wear a face covering if they are unable to social distance
Pay by contactless/card payments if possible
Only touch what you are going to buy
Ideally, shop alone
Walk, cycle or use your own vehicle to travel within your local area. Please note that face coverings are compulsory if you are travelling by public transport
Support your local businesses and shop local
Businesses are also asked to be mindful of their queuing systems outside of their store. Whilst many have employed staff to monitor the queues, all businesses must take responsibility of the 'state' of the queue. And, if people aren't social distancing or gathering in large groups – please remind them of the guidance.
Over the next few days, COVID-Marshalls will be visiting businesses in key 'hotspots' to remind them of the guidance.
Cllr Richard Baker, Lead Member for Business at Richmond Council, said:
"One in three people who have Coronavirus have no symptoms. They could be spreading it, without realising it. We need everyone to act like they have it.
"We want everyone to shop local and support their high streets. However, imperative to all of this is the need to do so safely. We are seeing queues of people not social distancing, gathering in groups with others, not wearing face coverings.
"Our businesses are working so hard to make sure that everyone is safe when inside the premise – but it is down to individuals to also take responsibility when they are outside.
"The message is simple – if you do not follow the rules you risk taking COVID-19 home or spread to others. If the queue is too long and you don't feel safe – go back at a quieter time."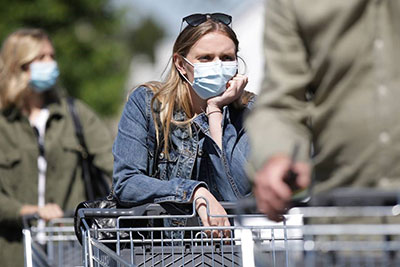 Notes for editors
If you are a journalist and would like further information about this press release, contact Elinor Firth on 020 8487 5159.
Reference: P036/21