COVID tests to be available for those with no symptoms in other borough locations
Release Date: 27 January 2021
All residents in the borough who are either essential workers, volunteering or providing vital support for a vulnerable resident, can now access a rapid COVID-19 test in Twickenham and East Sheen, with Hampton testing available to book from next week. The test is for people not experiencing symptoms or asymptomatic.
We know that up to one in three people who have coronavirus never show any symptoms, but that does not mean they are not infectious. Lateral flow tests are one of the tools being used to help us to detect and fight COVID-19.
Since January 2021, the Council has been inviting those essential workers or volunteers/carers, including those who work in supermarkets, taxi or mini cab drivers, transport staff, those who work in key public services or in faith-based organisations to access regular asymptomatic testing. In line with NHS guidance, these tests should be taken twice a week.
The Council is now making it even easier for people to book one of these tests in their local area. This includes:
Clarendon Hall, York House, Twickenham, TWI 3BZ

. This centre is currently open for appointments from 9.30am to 4pm, but will be also open on Saturdays and Sundays from the 6 February between 10am and 2pm

From Monday 1 February, Sheen Lane Community Centre, Sheen Lane, 

SW14 8LP

will be open for appointments Monday to Friday between 9.30am and 4pm

From Monday 8 February, Linden Hall Community Centre, 

Linden Rd, Hampton TW12 2JG

 will be open for appointments 

Monday to Friday between 9.30am and 4pm. Please note you will not be able to book appointments for Linden Hall until Monday 1 February
Appointments will be available to book seven days in advance. Those who do book are reminded that if they are unable to attend their appointment to cancel rather than just not show up. This frees up appointments for others in the borough.
The lateral flow testing is in addition to the symptomatic testing (sometimes called PCR Testing), that is already available for those displaying COVID-19 symptoms at three venues across the borough.
Cllr Gareth Roberts, Leader of Richmond Council, said:
"These tests a vital part of our ability to combat Coronavirus. The tests allow individuals with no symptoms to check if they have the virus in under an hour, when they otherwise wouldn't know, and make sure they are not putting others at risk.
"Over the past few weeks we have tested thousands of people. Giving people the reassurance when they are going to work, or volunteering, that at that moment they are COVID free. And ensuring that those who have the virus take immediate action and self-isolate.
"Whilst lockdown has brought our Covid numbers right down, it isn't going away. And we will only be able to recover if people take action when they have the virus. So, if you are currently leaving your house for essential purposes, get a regular test, twice a week.
If you are not displaying any COVID-19 symptoms and need a test:
If you have access to the internet, book a lateral flow test
If you do not have access to the internet, call: 

020 8871 6555
This testing is entirely voluntary. Booking is essential to reduce the spread of the virus through the community. You must not come to a test centre if you have COVID-19 symptoms or if you have been told to self-isolate by NHS Test and Trace.
If you do have COVID-19 symptoms and need a test:
Currently anyone who does have one of the main symptoms of a high temperature, new cough or loss of taste or smell must self-isolate immediately and book a test and receive their results in 48 hours.
There is a testing centre for those displaying symptoms at Twickenham Stadium, regular testing available at Old Deer Park in Richmond and an additional walk-in testing site at the St Mary's University Broom Road sports campus in Teddington. When you book a test you will be given the option of a test centre based on nearest location to you and availability. The testing sites are currently showing good availability. If you are displaying symptoms, apply for a test online.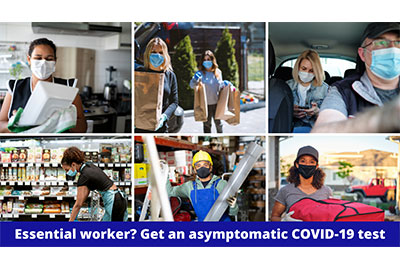 Notes for editors
If you are a journalist and would like further information about this press release, contact Elinor Firth on 020 8487 5159.
Reference: P040/21