Council slams COVID deniers
Release Date: 06 January 2021
Council Leader has hit out at those trying to play down the severity of COVID-19 by placing posters in borough parks and warned the borough's spiralling infections could lead to more tragedy.
Over the past few days, there have been reports of 'COVID denier' posters and anti-vax material being taped to benches and trees in borough parks. The Council is removing all the posters when they are reported.
Cllr Roberts, Leader of Richmond Council, slammed the irresponsible 'idiots' who litter the borough with false information.
'We are on a knife edge. Our hospitals are struggling, and people are dying. Over the last few months, I have noticed an increasing toxicity around stories, particularly on social media about coronavirus. Now we have posters in our parks.
'Now, I completely understand that people are weary of hearing of the disease after it's dominated headlines for the last nine months. Combined with the huge personal sacrifices we have all made.
'These idiots creating false propaganda are not scientists. They are conspiracy theorists.
'We know that in Richmond nearly 200 people have died from coronavirus. We know that our current positive rate is the highest it has been with more than 638.8 per 100,000 people testing positive. That is compared to around 100 per 100,000 at the start of December.
'If we see these irresponsible posts or posters, we will remove them and if people see them when they are out having their daily exercise, please report them to 020 8891 1411.'
Image from Richmond Nub of a COVID denier flyer on a bench at Richmond Green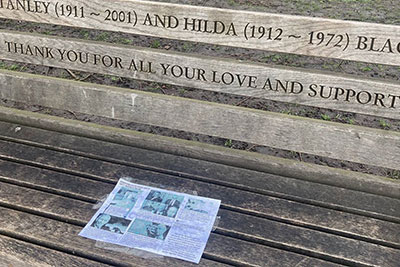 Notes for editors
If you are a journalist and would like further information about this press release, contact Elinor Firth on 020 8487 5159.
Reference: P009/21