Council commemorates Holocaust Memorial Day
Release Date: 27 January 2021
Richmond Council has unveiled a collection of displays across the borough to commemorate Holocaust Memorial Day. The displays tell the stories of many of those who died during the Holocaust and of historical connections to the borough.
Holocaust Memorial Day, which takes place every year on the 27 January, is a day of remembrance for the six million Jews murdered during the Holocaust, alongside the millions of other people killed under Nazi Persecution and in subsequent genocides in Cambodia, Rwanda, Bosnia and Darfur.  
In previous years the Council would support an extensive programme of events organised throughout the borough, however the COVID-19 pandemic has resulted in the cancellation of in-person activities, with other commemoration events moved online.  
This year the Council will mark Holocaust Memorial Day by displaying a series of banners and posters in numerous locations across the borough, including on many of the high streets and in parks. There are also displays outside Old Town Hall, Richmond, Twickenham Library and York House.  
The biographies and photographs were gathered by pupils from Hampton School, and the displays were pulled together with support of Cllr Jo Humphreys, Ward Councillor for Whitton. Among the stories told there is one with a local connection. Rolf Metzger, who was born in the German city of Mainz, was sent by his parents, aged just ten years old on the Kindertransport to England, in order to flee the horrors of Nazi Germany. Rolf travelled to Twickenham where he lived in a house with nine other Jewish boys also fleeing Nazi persecution.    
Cllr Gareth Roberts, Leader of Richmond Council, said: 
"As a Council we are committed to observing and commemorating Holocaust Memorial Day annually, with the support of all Councillors from all political parties. 
"Holocaust Memorial Day provides us all with an opportunity for reflection and learning. In the absence of in-person events this year, it is important that we continue to mark this significant day of commemoration. This year we have again seen the power of our community in these contemplative and important displays, created by some of our school children."  
Cllr Jo Humphreys said:  
"Holocaust Memorial Day provides us with an opportunity to come together, learn about and honour the experiences of people affected by the Holocaust and genocide. The moving banners and posters that we have unveiled in many locations across the borough provide a safe way for residents to engage with, learn from and commemorate Holocaust Memorial Day this year.  
"I'm extremely grateful for the hard work of the pupils from Hampton School, without which this would not have been possible. I would encourage everyone to take time to stop and read some of the stories of those who were victims of the Holocaust."  
Richmond Council will fly the flag outside the Civic Centre in Twickenham at half-mast on Wednesday, January 27, to mark the day.  
The Holocaust Memorial Day banners will be on display at: 
Richmond Old Town Hall, South Richmond 
York House, Twickenham Riverside 
Twickenham Library, Twickenham Riverside 
Radnor Gardens, South Twickenham  
Diamond Jubilee Gardens, Twickenham Riverside 
Westerley Ware, Kew  
Murray Park, Whitton 
Suffolk Road Rec, Barnes  
King George's Field, Ham  
Palewell Common, East Sheen 
Garricks Lawn, Hampton  
Hampton Wick Memorial  
Hatherop Park, Hampton  
Broom Road Recreation Ground, Hampton Wick  

Kings Field, Hampton Wick

Heathfield Recreation Ground, Heathfield  
Vine Road Rec, Mortlake & Barnes Common  
Tangier Green, North Richmond  
Moormead Rec, St Margarets  
Vicarage Road Play Area, Teddington  
Kneller Gardens, West Twickenham  
Crane Park, West Twickenham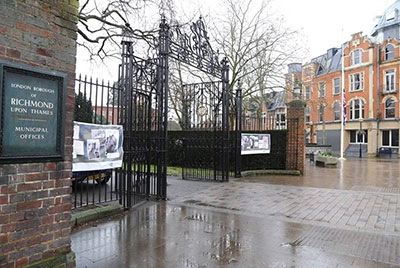 Notes for editors
If you are a journalist and would like further information about this press release, contact Jeff Gibbons on 020 8487 5178.
Reference: P043/21