Youth mental health services in Richmond receive major boost
Community news on behalf of Richmond Borough Mind | 29 December 2022
Fulwell Golf Club has raised £51,326.78 in support of Richmond Borough Mind's work with children and young people.
The money raised during the club's Captain's Charity Campaign 2022 will be used by Richmond Borough Mind to support continuing expansion of mental health support for children and young people living or at school in the borough of Richmond.

Susanna Gillett, Fulwell Golf Club's Captain, said:

"We are absolutely delighted with the amount we've raised this year.
"Coming out of the pandemic we were aware mental health was an issue that needed more support, particularly where young people and children were concerned. Club members really got behind the cause and helped us more than double our original target of £20,000. I am so proud to have helped start more conversations about mental health".

The club led a comprehensive awareness and fundraising campaign, including talks and challenges, such as the 100-hole challenge, Ride London and completing three marathons in one month as well as auctions, raffles and sweep stakes.

Val Farmer, Chief Executive of Richmond Borough Mind, said:

"With waiting lists so long and funding for mental health services not nearly enough, this significant contribution from Fulwell Golf Club will help us start to fill the gaps. Young people have higher mental health need than ever".

Richmond has high rates of hospital admissions for mental health, self-harm and alcohol presentations compared to the rest of London (Richmond Mental Health Needs Assessment 2022).

As an independent charity, Richmond Borough Mind relies on donations from the community to fund their work. If you would like to donate, please visit the Richmond Borough Mind website. For more information about mental health support, please call 020 3137 9590 or email info@rbmind.org.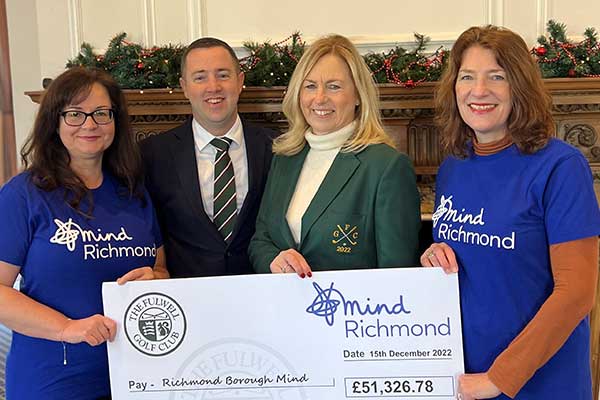 Updated: 29 December 2022