Don't risk lives this New Year's Eve
Release Date: 30 December 2020
Residents are reminded not to risk the health of their family, friends and neighbours this New Year's Eve and only welcome in 2021 with those they live with or those in their support bubble.
As Richmond upon Thames remains in Tier 4, owing to the rising number of coronavirus cases across London, the rules around celebrating New Year's Eve are the same as for any day of the year. The rule, as set out on the Government website, is quite clear 'you must not leave or be outside your home or garden unless you have a reasonable excuse'. That means you cannot meet people indoors, unless you live with them, or they are part of your support bubble. Outdoors, you can only meet one person from another household. 
Cllr Gareth Roberts, Leader of Richmond Council, said:
"I know that residents and businesses in Richmond upon Thames, like me, were devastated that the move into Tier 4 restrictions was necessary.
"However, in real terms – in the days leading up to Christmas, we were seeing over 450 people a day in Richmond testing positive for COVID-19.
"People have made so many sacrifices already this Christmas. And we now need people not to make rash decisions and break the rules, risking the health of others. It isn't worth the risk – even for New Year's Eve.
"So, let's all pull together and remember, stay at home with your household or support bubble on Thursday 31 December.  "Days ahead will get better, remember that. But for now, to really make sure we have a Happy New Year – staying at home is the best thing we can all do."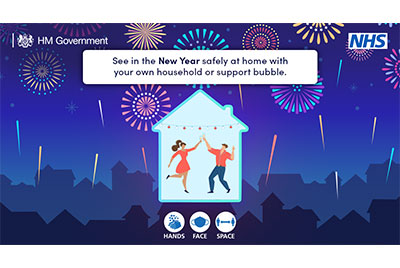 Notes for editors
If you are a journalist and would like further information about this press release, contact Elinor Firth on 020 8487 5159.
Reference: P003/21