Heathrow expansion - be heard
In 2013 nearly 60,000 Richmond residents made their voice heard regarding the future of Heathrow. The results were presented to the Government to demonstrate that any further expansion of Heathrow Airport is not acceptable to the majority of people in West London.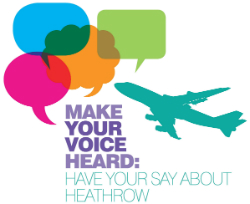 Background
Between 22 April and 16 May 2013, residents from Richmond and Hillingdon boroughs were invited to cast their vote on two questions.
Should a third runway be built at Heathrow?
Are you in favour of more flights into and out of Heathrow?
140,516 votes were received in total, which represented an overall turnout of 41%.
The results show that an overwhelming majority of residents in both boroughs (72%) are against a third runway and 73% do not want to see any more flights in or out of the airport. That is over 100,000 people saying 'No' to both questions.
Results
Richmond upon Thames' Heathrow referendum results

| Richmond upon Thames | Number of votes |
| --- | --- |
| Number of ballots distributed | 136,880 |
| Overall turnout | 43% (59,466) |
| Should a third runway be built at Heathrow? | Yes: 20% (12,055), No: 80% (47,031) |
| Are you in favour of more flights into and out of Heathrow? | Yes: 18% (10,853), No: 82% (48,100) |
Breakdown of results by ward

| Ward | Turnout (number of cleansed responses received) | Response to Q1 - should a third runway be built at Heathrow? Yes | % Yes response to Q1 | Response to Q1 - should a third runway be built at Heathrow? No | % No response to Q1 | Response to Q2 - are you in favour of more flights into and out of Heathrow? Yes | % Yes response to Q2 | Response to Q2 - are you in favour of more flights into and out of Heathrow? No | % No response to Q2 |
| --- | --- | --- | --- | --- | --- | --- | --- | --- | --- |
| Heathfield | 3,230 | 851 | 26 | 2,378 | 74 | 700 | 22 | 2511 | 78 |
| Whitton | 3,187 | 728 | 23 | 2,457 | 77 | 654 | 21 | 2515 | 79 |
| West Twickenham | 3,314 | 728 | 22 | 2,586 | 78 | 658 | 20 | 2652 | 80 |
| St Margarets and North Twickenham | 3,472 | 604 | 17 | 2,866 | 83 | 555 | 16 | 2908 | 84 |
| South Twickenham | 3,159 | 614 | 19 | 2,540 | 80 | 544 | 17 | 2604 | 82 |
| Twickenham Riverside | 3,105 | 701 | 23 | 2,401 | 77 | 633 | 20 | 2464 | 79 |
| Hampton | 3,319 | 876 | 26 | 2,440 | 74 | 788 | 24 | 2526 | 76 |
| Fulwell and Hampton Hill | 3,264 | 716 | 22 | 2,547 | 78 | 658 | 20 | 2600 | 80 |
| Hampton Wick | 3,230 | 809 | 25 | 2,415 | 75 | 737 | 23 | 2481 | 77 |
| Teddington | 3,340 | 737 | 22 | 2,599 | 78 | 702 | 21 | 2626 | 79 |
| Hampton North | 2,919 | 852 | 29 | 2,059 | 71 | 773 | 26 | 2132 | 73 |
| North Richmond | 3,440 | 537 | 16 | 2,901 | 84 | 455 | 13 | 2978 | 87 |
| South Richmond | 3,427 | 606 | 18 | 2,819 | 82 | 539 | 16 | 2880 | 84 |
| Ham, Petersham and Richmond Riverside | 2,977 | 647 | 22 | 2,328 | 78 | 612 | 21 | 2353 | 79 |
| East Sheen | 3,582 | 493 | 14 | 3,086 | 86 | 410 | 11 | 3161 | 88 |
| Mortlake and Barnes Common | 3,281 | 504 | 15 | 2,776 | 85 | 465 | 14 | 2809 | 86 |
| Kew | 3,815 | 561 | 15 | 3,250 | 85 | 515 | 13 | 3292 | 86 |
| Barnes | 3,077 | 491 | 16 | 2,583 | 84 | 455 | 15 | 2608 | 85 |
| | | | | | | | | | |
| Total | 59,138 | 12,055 | 20 | 47,031 | 80 | 10,853 | 18 | 48,100 | 81 |