Village Plans
At the end of 2010 Richmond Council sent every household the All in One survey, which asked about the priorities of residents in each local area. We asked what people liked about where they lived and what could be improved.
The Council followed this up with a series of village planning events across the borough – these events gave residents the chance to discuss local issues in more detail and find potential solutions, including how the Council and community could take things forward together.
As a result, the Council created 14 Village Plans. Each plan describes:
Your local area and vision for how the area will develop in the future.
The key issues, priorities and opportunities in your area.
How you can be involved in improving your local area.
Useful information about how to get things done with the Council.
Click on your village in the below map to see your local Village Plan.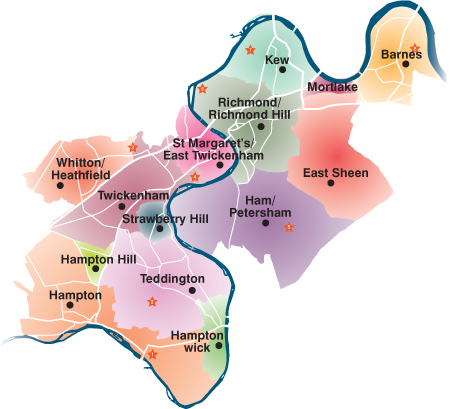 What is happening now?
The results of the All in One survey also showed that residents had a desire to shape planning policy for their local area. Therefore, it has now been agreed that within the Village Plans there will be a dedicated section that will provide residents and businesses with a straightforward and unbureacratic way of developing planning policy in their area.
In planning terms, this type of document is called an Supplementary Planning Document (SPD), and it can be taken into account in making planning decisions.
Are you doing SPDs for every village in the borough?
Rather than create these planning documents for each village at the same time, the Council has selected two villages – Kew and Whitton/Heathfield – to trial this new Village Planning process. Other villages across the borough will then move forward with their plans in 2014 and beyond, eventually covering the whole borough. Ham and Petersham are proceeding separately with a local Neighbourhood Plan for their area.
What about wider community matters?
The Village Plans will continue to reflect wider community needs, aspirations and activities that the community, Council and partners will work together on to shape and deliver. This could include tackling isolated elderly, strengthening opportunities to get involved, improving green spaces or planning school places.
How can I get involved in shaping my local plan?
At the end of 2013, residents in Whitton/Heathfield and Kew worked with the Council to help shape the planning vision for their local area. Residents in both areas attended a series of public events and 'walkabouts' around their local area.
The events gave the Council an opportunity to hear resident thoughts on the local area, and their ideas on how best to protect and enhance its character, conservation areas, any site specific issues and how current Council policy impacts planning and development.
Following this, the Council would like your views on the Whitton / Heathfield and Kew draft Supplementary Planning Documents (SPDs).
An SPD provides a vision for a local area. It identifies key policies and helps to identify the 'local character' of the area and what features need to be retained. Once adopted, the SPD will help to maintain and enhance this local character. The SPD will establish key design principles for new development and will be taken into account by the Council when deciding on planning applications, both for new development and changes to existing buildings.
Have your say on the Whitton/Heathfield or Kew draft SPDs now until the 7 April 2014.
You can also come along to a drop in session, where you can view and discuss the documents.
Whitton/Heathfield: 15 March at Whitton Youth Zone, Britannia Lane, Whitton, TW2 2JX from 10am-4pm
Kew: 22 March at St Annes' Church, Kew Green, TW9 3AA from 10am-4pm.
Are there other opportunities for me to have my say?
In March 2014, Richmond Council is holding two Question Time-style events, one in each of the village planning pilot areas. Find out more about these events at Kew Question Time and Whitton and Heathfield Question Time.
To find out about other consultations going on in your local area or across the borough go the Council's consultation finder. You will find details about forthcoming, current and past consultations carried out by the Council.
More information
For more information about these events, email: allinone@richmond.gov.uk.
Find out more information about the Village Planning Process by reviewing these FAQs.