Pedestrian safety
The Safety Education Team is working towards reducing child pedestrian casualties through a series of education, training and publicity initiatives. We visit nursery schools and playgroups, and have training available in all borough schools for children from Reception to Year 3.
Nurseries and pre-schools
Through role-play, story telling and lively music, pre-school age children learn the safety basics – holding hands with a grown up, stopping, looking and listening for traffic.
A lollipop person can help the children cross safely to their school!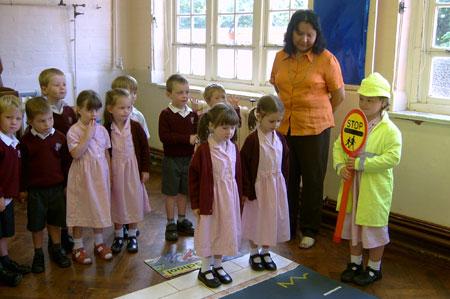 Key Stage One
All borough schools now have a "Streetfeet" road safety resource for use with infant aged children.This fun activity stresses the importance of finding and using safe places to cross the road such as pelican and zebra crossings, and working out safe routes to and from school.
Richmond Safe Walking Scheme for Y3 pupils
In year 3 children are invited to take part in the Richmond Safe Walking pedestrian training scheme. This is a practical road side training course which encourages children to think about the dangers of traffic - to understand the hazards and learn to deal with them and to plan routes that make use of crossing facilities where they are available. This project has been running for several years and to date over 5000 children have been trained.  All pupils trained under this scheme receive a coveted enamel badge which, like the cycle training badge for Y6's, is the must have accessory for Y3's!
The need to have their parents' permission for crossing roads on their own as they grow up is emphasised.  The best way for them to convince their parents that they will be safe is by showing them the lessons they have learned on this training when out with their parents.
These children are working out the best strategy for dealing with potentially hazardous situations - at a junction and a zebra crossing.
Contact the Safety Education Team
If you have any queries about any of our services please get in touch.
Safety Education Team
London Borough of Richmond Upon Thames
2nd Floor
Civic Centre
44 York Street
Twickenham
TW1 3BZ
Telephone: 020 8487 5131
Email: safety-education@richmond.gov.uk