[Handler onLoadFinished attached to 'visitrichmond-4' (53066) on page 'home/leisure_and_culture/tourism_and_travel/tourism_and_local_events/visitrichmond.htm'] Line 463: Error: can't convert undefined to an integer
[Handler onParseStart attached to 'visitrichmond-4' (53066) on page 'home/leisure_and_culture/tourism_and_travel/tourism_and_local_events/visitrichmond.htm'] Line 47: ReferenceError: skipnav is not defined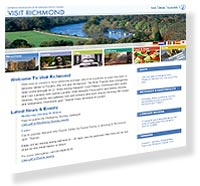 VisitRichmond
VisitRichmond is the official online guide to the London borough of Richmond upon Thames.
At VisitRichmond you will find the following information:
A guide to the Borough
What to do in the Borough
Where to stay
Leisure activities
History of the borough
Special promotions
Twinning
Learning English
Travel information
See it now: www.visitrichmond.co.uk.
What's on in the Borough
VisitRichmond offers a comprehensive guide to upcoming local events. Please see www.visitrichmond.co.uk to find out what's happening in the Borough.
What do you think of VisitRichmond?
We are very keen to hear your comments on the VisitRichmond website. To send comments or questions please go to the VisitRichmond contacts page.
VisitRichmond