Village plans
The 14 Village Plans:
Describe your local area and have a vision for how the area will develop in the future.
Look at key issues, priorities and opportunities in your area.
Describe how you can be involved in improving your local area.
Give useful information about how to get things done with the Council.
The Village Plans continue to be developed on an ongoing basis. Updates are provided and new content is added in line with the publishing of the Village e-newsletters at the end of March, May, August and November 2013. If you would like to feedback on your Village Plan please contact your Community Links Officer or email allinone@richmond.gov.uk.
The Village Plans are a key part of our overall approach to community planning in the Borough. They are based on extensive community consultation – the All in One Survey and subsequent planning events. The Village Plan is not however a spatial planning document, for information, plans and policies that guide future development in the borough please see the Planning Policy web pages.
Click on the map below or use the menu to go to your village plan.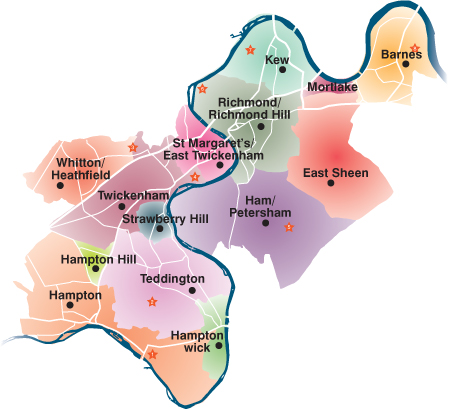 Village Plans Updated March 2013
What's new?
Latest on the Uplift Programme – find out about progress to revitalise 5 areas of the borough through the £11m improvement programme.
More information on community projects and the community groups and organisations involved.
Updates on improvements to the borough's libraries.
More links in the useful information section including housing links for landlords and tenants.
Getting involved
Get information on becoming a local Food Waste Champion and discover the new Green Deal scheme that allows you install energy saving measures and pay off the cost later with your fuel bill savings.
Use the links to find out how you can volunteer and have your say.
Find out who the Community Links Officer is for your Village. The Community Links Officers are there to help residents to get involved in their local area and promote ways in which local people can help deliver the key objectives outlined in the Village plans.
What is happening in your area?
Parks Improvement Programme – you can read about the latest improvements to the parks and open spaces in your village.
Roads and pavements fund – see what was included in the first round in your area.
Find out who your local Councillor is and how to contact them.