Junior Safety Officer Scheme
The Junior Safety Officer Scheme (JSOS) has been operating in the London Borough of Richmond since 2003 and is organised by the Safety Education Team. Thirty primary schools now enjoy membership of the scheme and this year the newly appointed Junior Safety Officers met on the 19th October 2010 for their annual seminar.  
The aim of the scheme is to increase safety awareness amongst pupils and encourage them to accept responsibility for keeping each other safe.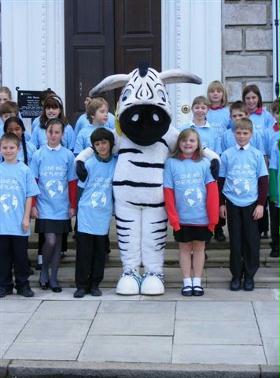 Junior Safety Officers meet safety mascot 'Debra the Zebra'
How the scheme works
In July, each primary school in the Borough of Richmond is invited to join the scheme and appoint two or three Junior Safety Officers from Year 5 (and occasionally from Year 6). The Junior Safety Officers serve for a period of one academic year, during which time they work in close partnership with the Borough's Safety Education Team to promote safety initiatives and pass on safety messages in their school.
How to be a JSO
Pupils applying for the post of Junior Safety Officer are asked to tell their teacher why they would like the job and why they feel they would be a good JSO. Very often the class vote to elect the candidates.
At the beginning of the autumn term all the new Junior Safety Officers are invited to a Junior Safety Seminar where they meet their Support Officer and members of the Safety Education Team. The Junior Safety Officers are given a special information pack, prizes for competitions they hold and a timetable of what their duties will be for the year. The seminar provides an opportunity for Junior Safety Officers to attend workshops on various safety issues. Throughout the year the Junior Safety Officers are asked to promote various safety campaigns, maintain a junior safety notice board, take assemblies and organise competitions promoting safety.
The duties of a JSO are to:
Promote pedestrian and cyclist safety
Promote in car safety to parents
Raise awareness of personal safety, by identifying dangers
Raise awareness on water safety in the home, near rivers, open water or at the seaside
Inform the children of fire safety precautions and what to do in the case of fire
Identify dangers and causes of accidents in the home
Provide a link between the council's Safety Education Team and the pupils
Promote safe driving to adults
Junior Safety Officers of the Year
Each year the Junior Safety Officers compete with each other to become a 'Junior Safety Officer of the Year'. The Junior Safety Officers who have worked especially hard to put over their safety messages and have maintained an impressive notice board are presented with a certificate and prize. In 2009-2010 the winners were Junior Safety Officers from Collis Primary School. The Junior Safety Officers showed their initiative by adding a Junior Safety Officer folder to their school website
Richmond 'PREVENT' competition helps keep children to 'be safe and be seen'
There was a huge response from Year 5 pupils who entered this logo design competition. Entries from 34 Richmond primary schools really proved a tough challenge to the judges, who sifted through over 1000 entries. The judges were so impressed by two pupils' work that they decided to award the winning prize of a bike to both pupils! The winners were Leila from East Sheen Primary School and Isabella from The Russell Primary School. Both girls are delighted with their new bikes.
All Year 6 pupils attending Junior Citizen this academic year will receive a reflective gilet displaying the combined logos design. This competition was promoted as part of a Metropolitan Police initiative to keep children safe and be seen. It has been good to see pupils who attended Junior Citizen in September out and about cycling and walking in their reflective wear.
More information
Further details about the Junior Safety Officer Scheme can be obtained from:
Heather Pitney, Safety Education Support Officer
Telephone: 020 8487 5131
Email: safety-education@richmond.gov.uk