Richmond Card
Your new Richmond Card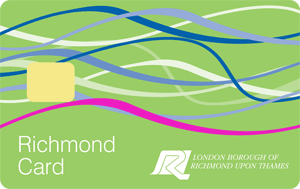 What is the new Richmond Card?
Following the All in One survey in 2010/2011, residents indicated that they felt that libraries, leisure facilities and high streets were important. We wanted to make these services more accessible and convenient than before, so developed 'The Richmond Card'.
The Richmond Card will replace the current RichmondCard, as an extension of the RichmondCard parking discount scheme that was introduced in 2007, to embrace one handy 'smart card' combining resident parking discount, library membership and optional leisure membership including access to discounted leisure facilities.
The new all-in-one card will also enable residents to benefit from offers and discounts that local businesses around the borough are making exclusively available for Richmond Card holders; these will be available online from January 2014.
What will my card have enabled?
Parking discounts - if you are a resident aged 17 or older
Library services - for all adults aged 18 or over
Leisure services/fitness membership - (if you have purchased a Leisure membership subscription)
Other benefits include:
Quickstop - 30 minutes free parking for residents
Cards are now issued per person
Offers and discounts from local businesses
No need to register vehicle details
Visitor Richmond Card (this will have no parking discount)
Can be linked to the Richmond Web Account
Is anything going?
Yes. We have removed the e-purse from the Richmond Card. With the new card you can make cash/credit/debit card payments at our parking machines as well as claiming your parking discount.
The e-purse was removed due to several factors:
For technical reasons, the existing credit on the old RichmondCard cannot be transferred. This is why we are keeping the current cards open for use in parking, so that residents can use-up any remaining credit. Residents will be able to use cash or credit/debit card to pay for their parking.
The e-purse had a potential risk for customers whose card had been lost or stolen as they would lose any credit held on the card.
How to apply for the new Richmond Card
If you are already a leisure membership holder, adult library member or have a RichmondCard for parking discount, you will not need to do anything; a new all in one card will be sent to you in January 2014.
Alternatively, you can sign up to the Richmond Account now and be sent an email when the Richmond Card is available.
If you would like to sign up for the new Richmond Card, a simple online application form will be available here from December.
The current card (RichmondCard)
You can still apply for a RichmondCard but as it is being replaced so soon, we would advise against it. Please read the guidance notes and then apply online. (Please note you can no longer top-up your e-purse).
How can I find out more?
Read frequently asked questions about the new Richmond Card.