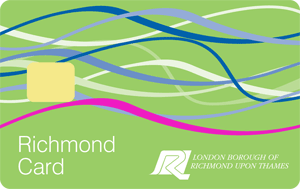 Leisure Card/Richmond Card
We are currently re-launching our existing Leisure Card under the new Richmond Card scheme.
If you use any of our facilities once a week or more it will be cost effective to add on a leisure subscription when applying for a Richmond Card. This will give you a discounted rate on most activities within our sports and fitness centres.
Discounts available at our centres
Centre
Discounts available
Teddington Pools & Fitness Centre

Classes and courses – up to 10% discount
Adult and junior swimming – 10% discount
Concessions swimming – 45% discount
Fitness pay as you go and inductions – 10% - 50% discount

Shene Sports & Fitness Centre

Badminton and tennis – up to 10% discount
Classes and courses – up to 10% discount
Fitness pay as you go and inductions – 10% - 50% discount

Excludes block bookings

Hampton Sports & Fitness Centre

Badminton and tennis – up to 10% discount
Classes and courses – up to 10% discount
Fitness pay as you go and inductions – 10% - 45% discount

Excludes block bookings

Teddington Sports Centre

Badminton, squash and tennis – up to 10% discount
Classes and courses – up to 10% discount

Excludes block bookings

Orleans Park Sports Centre

Badminton and tennis – up to 10% discount
Classes and courses – up to 10% discount

Excludes block bookings

Pools on the Park

Adult swim – 15% discount
Concession – 20% discount
Gym health suite day pass – 25% discount