Richard Dadd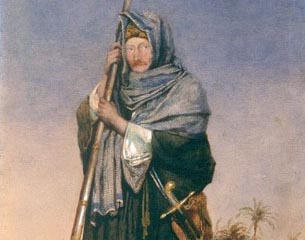 28 May - 2 October 2011
This exhibition from the Bethlem Royal Hospital Collection showcases the work of English Victorian painter Richard Dadd, noted for his depictions of fairies and other supernatural subjects, Orientalist scenes, and enigmatic genre scenes, rendered with obsessive details. The exhibition traces his journey through the Middle East and the onset of his illness, his work while at Bethlem Royal Hospital and his later work at Broadmoor.
This exhibition explores the life and work of one of the most fascinating Victorian visionaries - Richard Dadd (1817-1886).
Works from the Bethlem Art and History Collections Trust, West London Mental Health NHS Trust and private collections are brought together to chart Dadd's early career, travels to Europe and the Middle East, descent into madness and work created while at Bethlem and Broadmoor Hospitals.
Dr. Nicholas Tromans, author of Richard Dadd: The Artist and the Asylum, published this July, states:
"Richard Dadd was one of the great Victorian painters, but spent his career in psychiatric hospitals, or as they were then known, lunatic asylums. An artist of extraordinary imagination from a young age, he was a specialist in fairy subjects before a tour of the Middle East triggered the onset of a mental illness that led him to kill his father. At Bethlem Hospital and then at Broadmoor, Dadd continued to work as an artist, creating haunting images combining bold imaginative leaps with the most delicate of miniaturist's techniques. His art today presents both a beautiful mystery and a fascinating case study in the history of psychiatry."
To complement the exhibition, young people with disabilities who attend the gallery's regular Octagon group have worked with a professional artist to create a collaborative work inspired by Dadd's famous fairy paintings. This project has been generously supported by the Double O Charity.
Articles about this exhibition